Orlando, Fla. — Playing four games in five nights takes a toll, so it was no surprise the New Orleans Hornets didn't have the usual spring in their legs.
Outrebounded for the first time in 21 games, the Hornets fell to the Orlando Magic, 96-86, Saturday night. It was just the third loss in New Orleans' last 13 games.
"They caught us on a back-to-back while they were sitting three days, waiting for us," New Orleans coach Paul Silas said. "Tempo-wise, it could have been better. Nevertheless, I'd like to play them when we're fresh."
The Magic barely topped 40-percent shooting, but their 48-42 rebounding edge led to a 29-10 advantage on second-chance points.
Orlando's starting five outrebounded New Orleans' starters, 35-21. Drew Gooden had 11 rebounds, while Tracy McGrady had nine to go with his 34 points. Gordan Giricek added 13 points and seven rebounds.
"I think we did a good job on their main interior guys, with energy, just wanting it, going after the ball," said Gooden, who fell a point shy of his seventh double-double in 12 games since joining Orlando in a mid-February trade. "If one person does, it's contagious, and everybody follows."
Orlando (34-33), which had lost three of its last four, avoided a drop below .500 for the first time in two weeks.
David Wesley scored 24 points, nine in the first quarter, to lead the Hornets. P.J. Brown had 18, while Jamaal Magloire added 15 points and nine rebounds.
Jamal Mashburn was held to eight points, matching his season low, on 4-for-13 shooting. He did have nine assists.
"We were just making it tough for them, tough for Mashburn, to get to his sweet spots," McGrady said. "I've watched Mash over the past years, and I know his game well. That's why I do a great job defending him."
Lakers 98, Bucks 94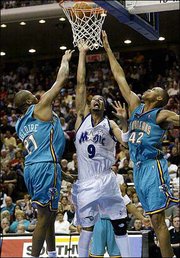 Milwaukee -- Shaquille O'Neal scored 24 points, and Kobe Bryant added 20, including four in the final 36 seconds, as Los Angeles erased an 18-point deficit and beat Milwaukee. The victory moved Los Angeles (37-28) into a tie with Utah for the sixth playoff spot in the Western Conference.
Michael Redd scored 21 points and Sam Cassell 20 for Milwaukee, which was held to 30 second-half points in its third straight loss.
Celtics 81, Pistons 71
Auburn Hills, Mich. -- Paul Pierce scored 33 points as Boston defeated Detroit. It was the first meeting between the teams since Detroit won 118-66 Jan. 31 in Boston -- the most lopsided loss in the Celtics' long history. The 52-point margin also was the largest in the Pistons' history.
Antoine Walker added 17 points for the Celtics, who have won seven of 10. Chauncey Billups scored 19 points, and Ben Wallace had 21 rebounds to lead Detroit, which had won four straight.
Wizards 89, Heat 82
Washington -- Jerry Stackhouse scored 37 points, and Washington rediscovered defense in the second half to gain control of a close game and beat Miami.
Michael Jordan added 19 points for the Wizards, who need a victory in nearly all of their few precious remaining home games to keep pace in the Eastern Conference playoff race. Washington had lost five of seven overall to fall into ninth place, and it plays 11 of its final 16 on the road.
Warriors 94, SuperSonics 88
Seattle -- Antawn Jamison scored 26 points, including a critical three with 42.5 seconds remaining, and Golden State ended a 14-game losing streak against Seattle. It was the Warriors' first win over the SuperSonics since March 19, 1999. Golden State also had lost 14 straight in Seattle, last winning here March 6, 1995.
Jamison made 10-of-18 shots and led five Warriors in double figures. Jason Richardson had 24 points.
Copyright 2018 The Associated Press. All rights reserved. This material may not be published, broadcast, rewritten or redistributed. We strive to uphold our values for every story published.