Belgrade, Serbia-Montenegro — Hundreds of thousands of mourners marched Saturday through Belgrade behind the casket of Prime Minister Zoran Djindjic, as the hunt for his assassins moved beyond Serbia's borders.
A band playing dirges led tearful crowds from the Saint Sava Temple to the cemetery where Djindjic, gunned down Wednesday in downtown Belgrade, was buried. The procession passed through Belgrade streets where Djindjic had led masses that helped him topple former Yugolslav President Slobodan Milosevic, now on trial for war crimes.
Djindjic, 50, was instrumental in ousting Milosevic in 2000 and extraditing him a year later to the U.N. tribunal in The Hague, Netherlands. That, along with his pro-Western stance and recent declaration of war on organized crime and corruption, made him many enemies.
The government has accused an underworld clan and other allies of Milosevic of orchestrating Djindjic's killing as he stepped out of his armored car in front of Belgrade's government building.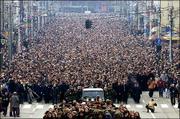 Several of the suspects fought in Bosnia during the 1992-95 war and have contacts in the country. Saturday, police wearing masks and accompanied by search dogs raided a construction company near in a Bosnian Serb village near the capital Sarajevo.
The funeral procession in Belgrade was the biggest since the death of former Yugoslav communist leader Josip Broz Tito in 1980.
Copyright 2018 The Associated Press. All rights reserved. This material may not be published, broadcast, rewritten or redistributed. We strive to uphold our values for every story published.