Finally, the weather was kind to participants in the 8th annual Spring Fling Criterium cycling series, held at Clinton Lake every Saturday this month.
After two straight Saturdays of miserable weather -- either by snow or unexpected and unwelcomed frigid temperatures -- cyclists of all ages got a break Saturday from Mother Nature, the third week of competition in the six-week series.
"It was fabulous," participant Stacey Lamer said.
Equally fabulous was Lamer's performance. A Lawrence resident and member of Free State Cycling, Lamer was runner-up in the women's race, beating out a neck-to-neck pack of four cyclists. Even she was a little shocked with her finish, which was second only to Tanja Hess.
"I did excellent," she said. "Surprisingly."
Despite temperatures reaching 75 degrees, some cyclists stayed home. Only seven women competed, half as many as the previous week. All of the other race divisions saw a similar decline.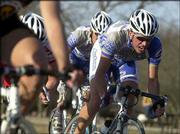 "The fields were bigger before in the first two races," Lamer said. "I think it's because everybody's pretty pumped up about the first races of the year."
Still, many of the same successful faces were present Saturday. Adam Lang of Team X Cycling.com won the youth 8-15-year-old division for the third straight week, and Mike Palitto, also of Team X Cycling.com, won the Category 5 race for the second straight week.
The Spring Fling Crit Series, at Clinton Lake campground No. 1, kicked off March 1 and concludes April 5. Overall winners of the youth, junior and Category 5 divisions receive awards, while winners of the women, masters, Category 4/5 (14-mile races) and Category 1/2/3 (24-mile races) will get cash prizes, ranging from $350 to $900.
Copyright 2018 The Lawrence Journal-World. All rights reserved. This material may not be published, broadcast, rewritten or redistributed. We strive to uphold our values for every story published.