Abilene — Since 1991, Larry and Nadine Abeldt have driven their children 32 miles twice a day to attend schools in nearby Chapman. They have worn out three vehicles in the process.
"That's commitment," he said. "The only regret we have is that we didn't make the decision sooner."
That decision is what Larry Abeldt refers to as "the rest of the story." It's why parents choose to send their children to a school where they get individual attention, access to activities and a good education.
Austin, 11, is a fifth-grader at Rural Center Elementary and the last of the Abeldt's four sons in school. His father describes the school as special.
"Our community's just the school," he said. "We don't need a town."
He said that point gets lost as legislators debate school consolidation, looking for ways to save money with the state facing a budget shortfall. And it's one he and others wanted to tell because news reports about the debate in Topeka and the district's declining enrollment created doubts among parents about the 39-student school's future.
Principal Becky Cheney is protective of Rural Center and reassures parents that the school is not closing.
Supt. Tony Frieze said the district, which covers 550 square miles, combined two elementary schools three years ago to preserve a rural education tradition.
"Despite the distances involved, the strength of our district has been the support and commitment of parents, teachers, staff and the board of education to maintain this rural atmosphere because they believe it is conducive to providing the best education possible to our students," Frieze said.
Cheney said there were several factors that distinguished small schools from others.
"I feel like Rural Center has always had the philosophy of leaving no child behind," Cheney said, referring to the 2001 federal education reform law championed by President Bush. "I believe Rural Center is the best-kept secret."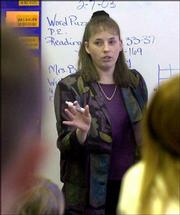 Students aren't just grounded in academics, she said, but socially with the smaller classes and extracurricular activities.
For example, each year the school has two major musical productions.
"People get here an hour early for a parking spot," she said. "It's an experience that some students don't get -- ever.
Donna Davis, a Chapman administrator, said the district has one focus.
"It's all about the kids," said Davis, who used to work at Rural Center.
Davis said the school was special because everyone knew each other. Board members and district administrators are familiar faces to students and teachers.
Proof in the pudding
The Abeldts are pleased with their decision.
Nadine Abeldt said Austin's math skills soared with the school's introduction of an accelerated program in grades four and five. It has increased his enthusiasm for learning.
"Why wouldn't you want your children in this situation?" she said.
Parents are always looking to share the Rural Center story. Kathy Hoffman, whose family farms near the school, openly admits she recruits students.
Hoffman said instead of worrying about the future parents concentrated on the present. Parents lend a hand in raising money through activities like book fairs and all-school fun night each spring.
Kristina Watson, teacher of the combined fourth- and fifth-grade class, said support for the school goes beyond training and kind words.
"If there is anything we need, the district gets it for us," Watson said.
Building a legacy
The support the school receives from within and outside the building rubs off on students, Davis said, noting that Chapman alumni find success as leaders when they go to college and the business community.
"You see the values when they graduate," Davis said. "It goes back to caring. You care about people because you know them."
Hoffman said parents also support in other ways, including volunteering to help with busing, cooking meals or answering telephones.
Consolidation debates trouble Hoffman, who is not convinced students benefit by being part of larger school districts.
"What kind of commitment can they make to us who care about and support the schools?" she asks.
Copyright 2017 The Associated Press. All rights reserved. This material may not be published, broadcast, rewritten or redistributed. We strive to uphold our values for every story published.