Deborah Snyder calls it "arbitrary."
The Centennial neighborhood resident says the Lawrence school district's race to cut costs by creating fewer, bigger schools will undermine the education of the city's most fragile students.
"Those students have special needs because of their socioeconomic status," Snyder said. "There is a passionate argument here to keep those one-section schools."
Like many residents of Lawrence neighborhoods where schools would be closed, Snyder objects to the Lawrence school board's plan to create "two-section" schools, where each elementary building would have at least two classes at each grade level.
Meanwhile, fourth-grade teacher Melissa Sears says she is finding educational nirvana at Broken Arrow School.
Her class has 16 students -- well within the Lawrence school board's new class-size target.
"It has been such a great experience having a small class size," she said. "I know the students ... on an intellectual and emotional level."
Broken Arrow's enrollment of 250 students dictates that it function as a two-section school, which meets another school board goal.
Sears' experience at Broken Arrow and Snyder's concerns offer insights on a key issue in the April 1 vote on a $59 million school bond and election of four school board members: Should the district create a system of 15 two- or three-section schools if that means closing three one-section schools?
Along with that comes the question of what, exactly, is a small school?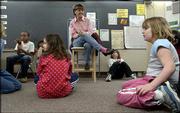 Politics of research
The Lawrence school board got the discussion going by deciding to eliminate all one-section schools through consolidation or closure. The board already has voted to shut down Riverside School in May and earmarked East Heights and Centennial schools for closure after bond-financed additions are finished at New York and Cordley.
The controversy helped inspire 13 candidates to run for school board. Four pro-bond and four antibond candidates emerged from the February primary.
In traditional political fashion, both sides have engaged in research-based duels.
Candidate Rich Minder, running in opposition to the bond issue and school closures, set up a Web site, richminder.org, with links to education research touting the value of small, neighborhood elementary schools.
One of Minder's sources -- a 2002 "Dollars and Sense" report -- defined a small elementary as a building with no more than 150 students.
He points to that study as evidence the board should abandon plans to close Riverside, which has 110 students, and East Heights, which enrolls 148 students. It is unwise, he says, to spend $3.3 million for expansion of New York, which has 128 students, to permit a merger with East Heights.
"Adding the East Heights children to New York School will not improve the (test) scores or improve the education these children receive," he said.
A different spin
Scott Morgan, who is president of the school board and a candidate for re-election, did a little digging on his own.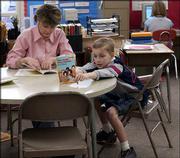 He checked Minder's sources and found a Small Schools Workshop report indicating a "small" elementary school could have an enrollment ranging from 250 to 300 students.
Morgan also turned to research tied to Tom Erb's defense of small schools in Lawrence. Erb, a Kansas University professor of education, bolstered his argument by noting the Lexington, Ky., school district moved to reduce the size of its elementary schools. He didn't say how Lexington defined "small" school.
In fact, the Lexington district's minimum elementary school enrollment was pegged at 375 students.
"One of the most frustrating points in this discussion is the definition of 'small,'" Morgan said. "The word gets used a whole lot without much concern for its rather fluid meaning."
None of the five Lawrence schools earmarked for consolidation or closure has more than 181 students. Thirteen of the district's 18 schools have enrollments of less than 375 students.
Is bigger better?
Education researchers studying the issue of school size offer evidence to support promotion of cohesive school communities of students, teachers and parents.
Research published in a 2002 edition of Educational Leadership magazine on "Class Size, School Size" shows small-enrollment schools helped students earn higher grades, improve class attendance and cut the risk of dropping out later in their school careers. The research says that's the case even if schools are as large as 400 students.
School board candidate Leonard Ortiz, who is opposed to the bond and consolidation, points to studies and reports from such places as the Oregon Legislature, North Carolina public schools, University of Wisconsin at Milwaukee, Bank Street College and University of Minnesota. All bolster the argument that small, neighborhood schools benefit low-income students.
"These studies show higher academic achievement, decrease in truancy, vandalism, violence, increased teacher satisfaction and parent participation," he said.
Class size No. 1
Facing deep budget troubles, the school board has concentrated the past two years on reducing individual class size in schools throughout the district. Money from internal budget reallocations and federal grants has been invested in class-size reduction.
Their fixation with class size also is backed up by research.
"The research on class size confirms what common sense tells us," said Lawrence Mishel, vice president of the Economic Policy Institute in Washington, D.C. "Smaller classes means more quality time and more quality learning for students -- and that translates to better educational outcomes and earning potential."
Research published in Educational Leadership suggests small class sizes have the greatest benefit for students if done in the first three years of school. Students in classes of 15 to 20 students in early grades retain academic gains in standard-sized classrooms through high school.
All types of students gain from small classes in early grades, research shows, but students who traditionally have been disadvantaged in education profit more.
Arguably the largest experiment into class size was Tennessee's STAR project.
Helen Pate-Bain, lead researcher for that 14-year, $12 million study, said students placed in classes of fewer than 17 children throughout their K-3 years outperformed students in standard classes of 22 to 25. The STAR project tracked 11,600 students in 79 Tennessee schools.
"That class size is the important foundation," said Pate-Bain, former president of the National Education Assn. "Teachers need to have small classes so they can know the children."
Life lessons
Sears has gone full circle in life.
She came to Broken Arrow as a student in fourth grade. Now she teaches fourth-graders there.
In between, she worked at small, medium and large schools in Lawrence and other Kansas districts. She's taught at elementary schools on the city's east and west sides and in one-, two- and three-section schools.
Her endorsement of the district's bond proposal, including a move away from one-section schools, is a product of that experience.
At Broken Arrow, the two-section model pairs Sears with fourth-grade teacher Ginny Turvey.
"Two heads are better than one," Sears said. "Teacher collaboration is very difficult in a one-section school. Who do you collaborate with?"
Sears' support of the bond proposal also reflects what she would want for her own children, who are in junior high and high school.
"As a parent," she said. "I want my children in a two-section school."
Books & Mortar is a three-week series providing information on the Lawrence school district's proposed bond issue. The series includes pieces in the Journal-World, on 6News and at www.ljworld.com.

It will include a televised community forum March 26. There also will be online chats with bond backers, opponents and others. Also along the way will be information about the district's consultant for the bond issue, administrative cost cutting in the district, the impact of schools on neighborhoods and more. Here's a look at what's ahead:

This week¢ Junior high schools -- In Monday's Journal-World, take a detailed look at what the bond issue proposes for the four junior high schools. Then, take a tour of the schools Monday through Thursday nights on 6News. In Wednesday's Journal-World, we'll take a look at the political organizations be-hind the bond issue. Friday, the Journal-World will explore the district's consultant on the bond issue, the DLR Group, and how it's helping to promote passage of the proposal. On 6News, reporter Sharita Hutton visits Salina to look at that district's recent school bond referendum.

Week three¢ High schools -- The Journal-World and 6News look at how the proposal would affect high schools.
Copyright 2018 The Lawrence Journal-World. All rights reserved. This material may not be published, broadcast, rewritten or redistributed. We strive to uphold our values for every story published.