Quebec City, Quebec — It seems appropriate that Canada's largest province also serves as host to the largest winter festival in the world.
Montreal celebrates the Fete des Neiges and Montreal High Lights. Far north in Saguenay, it's the Carnaval-Souvenir. Valcourt (Eastern Townships) is home to the Grand Prix Ski-Doo, drawing snowmobilers from all over North America.
But, around the first two weeks of February, the sights and sounds of the ultimate winter fete consume Quebec City.
Event organizers say Carnaval de Quebec emerged as a way to stimulate the region's economy during its long, intense winter months. Tourism officials say this year's 49th annual winter carnival, which ran from Jan. 31 to Feb. 16, drew about 1 million people who spent about $29 million.
Now they are already at work planning for next year, the 50th anniversary celebration, and they say it's not too early for visitors to start making their plans.
Unlike the pre-Lenten celebrations of Rio de Janeiro and New Orleans, partygoers here sport heavy coats and mittens instead of the scantily clad outfits of Mardi Gras notoriety. Multimedia shows, fireworks, night parades and canoe races are some of the activities.
"Even when we have visitors in the summer, we talk about the winter carnival," says Caroline Gague, a tourism information officer in Quebec City.
A merry mascot
The family-oriented festival promotes a mix of history, tradition, folklore and novelty -- like the whimsical clowns and King of the Carnival, fondly known as Bonhomme (pronounced BOH-nome).
Not to be confused with another portly snowman named Frosty, Quebec's merry mascot has become an ambassador of sorts in his traditional tuque (bright red hat) and ceinture flechee (arrow sash). In opening ceremonies, he's given the keys to the city, an ice palace and full run of the show -- that is, when you can find him. Ask around and most people will send you on a wild goose chase.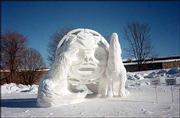 For adults, this can get old pretty fast as bitter winds smack across your face.
Winter Carnival media relations officer Roxanne St. Pierre says part of the fun is trying to find Bonhomme.
"People from Quebec are really a warm people, so we tend to forget about the cold," she laughed. "Each year people want to meet Bonhomme or find out where he'll be. All the children love him. He is the king of the event, so he represents the best in all of us. He really has his own personality."
Best place for sightings? Practically every shopkeep's window along the cobblestone streets of Vieux Quebec. Fortunately, the region's cultural vibrancy overshadows all those kitschy knickknacks.
A lot easier to find is something for everyone at the Children's Village -- just outside the gates of the walled city. Outdoor sports and cultural events, international snow sculpture competitions, folk music, maple sugar cabins and copious supplies of hot cocoa are definite crowd-pleasers.
Youngsters try their luck at ice fishing, while teens race off for a chance to slide down steep hills blanketed by snow. Meanwhile, exhausted parents look downright giddy when they spot horse-drawn carriages primed for sleigh rides and the Calgary flapjack-eating contest.
Most of this year's festivities occurred around Bonhomme's spectacular ice palace, built directly across from Parliament and adjacent to a vast city park, the Plaines d'Abraham.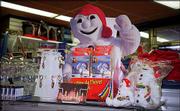 The park was once a battlefield for British and French forces and sits behind the city's armory, which now houses a tourist information center.
Patti Sheeler, of Strathroy, Ontario, watched her sons play near a mound of powdery snow in the Children's Village.
"I don't speak French so this really feels like we're in another country instead of Canada," Sheeler said. "We're even enjoying the cold. It's so amazing to see what people can create with snow and ice."
Old World charm
Founded by French explorer Samuel de Champlain in 1608, Quebec City attracts tourists from all points. Prior to European settlement, native Canadian tribes flourished in the area. Its architecture, museums and churches represent French, British and Amerindian influences. It's divided into two sections -- Upper Town, which includes the old city and overlooks the majestic St. Lawrence River; and Lower Town, which touches the river's shoreline. In 1985, Vieux Quebec was named a "World Heritage Site" by the United Nations Educational, Scientific and Cultural Organization.
Residents eagerly share intriguing tidbits about its historical significance, pointing to landmarks along the way. Travelers agree this magical place wears its Old World charm well. As the capital of the province, Quebec City also is seat of the National Assembly.
Americans are the largest group of foreign visitors, followed by Europeans, according to the Quebec City and Area Tourism and Convention Bureau. Ironically, the centuries-old fortifications that surround Vieux Quebec were originally built to protect it against American and British attack.
French is the official, and often, first language of most. However, English is spoken throughout Quebec.
The celebration helps generate revenue and good will, says Stephanie Jagou, a spokeswoman for the event. Despite the weather, Quebec City has become a popular destination during its coldest season.
"We have a huge amount of visitors coming just for the carnival, especially from the New England region because it's easily accessible by car," Jagou said. "They like it here and the weather isn't so much of a stretch."
Getting there: Low air fares to Quebec City depend on the season (many connect in Montreal or Toronto). For example, a recent AirCanada round-trip fare from Atlanta cost $250.Entry: A valid passport is needed for entry. Allow extra time for U.S. and Canadian customs inspections and security checkpoints.For the scenic route, take VIA Rail Canada. The Corridor Pass offers 10 days of unlimited travel between Quebec City and Toronto. Current rates and discounts: Visit www.viarail.ca or call (418) 692-3940. Train station Gare du Palais is worth a visit, with its ornate entrance and lively crowds. Don't rule out buses as a reliable, affordable alternative, especially from New England or upstate New York.When to go: Quebec's winter carnival begins the first week of February. Its 50th anniversary is tentatively planned Jan. 30-Feb. 15, 2004.Lodging: Book early for winter carnival. Rates quoted in Canadian dollars. Prices run the gamut from tiny inns starting at $44 a night to a $802 a night for a room on an exclusive floor of the city's crown jewel, Fairmont Le Chateau Frontenac.The opulent, luxury hotel opened in 1893 as the home of New France's royalty. Past guests include Princess Grace of Monaco, Winston Churchill and Franklin D. Roosevelt. For reservations: (800) 441-1414 or visit www.fairmont.com. Within walking distance are Auberge du Tresor, Hotel Clarendon and other distinctive inns along the Grande Allee. Hilton Quebec, Radisson Hotel Quebec Centre and Loews Le Concorde lie just outside the gates of Vieux Quebec. Motels, youth hostels and chalet rentals are also options.Cost: The exchange rate favors American visitors but fluctuates. Be sure to factor in Canadian and provincial taxes. Nonresident visitors can claim rebates on the federal Goods and Services Tax, or GST, for hotels and items purchased in the region.FYI: Canadian coins resemble U.S. coins, except the $1 loonie and $2 toonie, introduced in 1996.Information: www.quebecregion.com, www.bonjourquebec.com or call (877) BONJOUR.Carnaval de Quebec: www.carnaval.qc.ca or call (418) 621-5555.
Copyright 2018 The Associated Press. All rights reserved. This material may not be published, broadcast, rewritten or redistributed. We strive to uphold our values for every story published.