Murder trial defendant denies being at scene
Closing arguments begin this morning in the Douglas County murder trial of Topeka resident Michael W. Kesselring.
Kesselring, 42, is charged with kidnapping Topeka resident Dale A. Miller in September 2000 and shooting him by the side of a rural Lecompton road. He took the stand in his own defense on Thursday, claiming he was nowhere near the scene of the crime the night it happened.
Prosecutors claim Kesselring was one of four men who helped kidnap Miller at a Topeka home after he came under suspicion of stealing a stash of illegal drugs worth up to $250,000.
Earlier testimony placed Kesselring at the scene and as the trigger man.
But Kesselring testified he didn't kidnap anyone. He said he saw Holmes and other people associated with the drug ring early in the night but left them and went to the store to buy cigarettes for his mother.
University students help center on break
Approximately 20 students from Texas A&M; and Florida State universities are in Lawrence this week on an Alternative Spring Break.
Students are building a shed for Pelathe Community Resource Center with prefabricated materials donated by the city of Lawrence.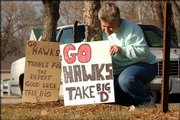 Students will also see a video about what it means to be American Indian, attend a community dinner and watch the New Dawn Native Dancers perform to learn more about American Indian culture. A group of 35 students came to the center over summer break to learn about new cultures and volunteer.
Habitat gets help from spring-breakers
It's hardly Cancun, but Lawrence served as the spring break destination this week for 20 Pennsylvania college students.
And while they were here, they helped build three houses for Lawrence Habitat for Humanity.
"They're a really great bunch," said Linda Klinker, program manager, adding that the group from Shippensburg University had done everything from roofing the houses to painting and dry-walling.
The group, which leaves Saturday, was a follow-up to students from Loyola University who helped last week.
Gift to KU creates journalism fellowship
The family of Whitley Austin, a former member of the Kansas Board of Regents, is establishing a journalism fellowship in his name.
Austin was a longtime editor and publisher of the Salina Journal. He died in 1995.
Austin's wife, Mary Frances Austin, and his children Dan Austin and Cathy Austin Roberts have bequeathed $250,000 to establish the Whitley and Mary Frances Austin Graduate Fellowship.
Copyright 2018 The Lawrence Journal-World. All rights reserved. This material may not be published, broadcast, rewritten or redistributed. We strive to uphold our values for every story published.