New York — Just two weeks ago, the talk around St. John's was if the Red Storm would be able to play in the NIT.
Now, the Red Storm are on a roll and headed for the Big East tournament quarterfinals.
Marcus Hatten scored 18 points to lead St. John's to an 83-80 victory Wednesday over No. 17 Notre Dame.
The Red Storm almost lost all of a 23-point lead before advancing to the quarterfinals with their fourth straight win.
"We're a different team than we were a couple of weeks ago," St. John's coach Mike Jarvis said. "We've made some adjustments."
Notre Dame has tried to do that recently.
The Fighting Irish entered the first round of the Big East having lost three of four, and in each of the losses they fell behind early. This was the biggest deficit, and they still almost forced overtime.
St. John's (16-12) will play Boston College (17-10) in today's quarters, and most likely will have to win the Big East to make the NCAAs.
The Red Storm led by 21 points at halftime and were up, 51-28, 1:13 into the second half on a steal and layup by Hatten.
"We knew no game is out of their reach unless you're up 100," Hatten said. "We stayed poised as a team and didn't force things as we did early in the season, and they still got close."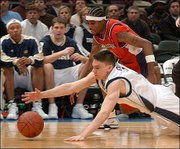 Notre Dame, which trailed by 15, 12 and 11 at the half in the three recent losses, went on an 11-0 run to get back in it. Still, the Irish (22-9) didn't get the deficit under 10 points until there was 13:12 to go, and it seemed St. John's, the league's worst three-point shooting team this season, had a long-range answer every time to get its lead back over 10 points.
Notre Dame then went on a shooting tear, hitting eight straight shots and 10-of-11 to get within 82-80 on a three-pointer by Matt Carroll with 1:10 to play.
Hatten missed a three as the shot clock wound down, and Notre Dame's Torin Francis, a 66-percent free-throw shooter, missed two free throws with 10 seconds to go.
Hatten was fouled with 8.6 seconds left, and he made the first. Carroll, dribbling through traffic with red shirts all around him, let go a three just before the buzzer, but it rattled in the rim before falling out.
"Matt taking a runner? I'll take that," Notre Dame coach Mike Brey said. "It was almost like we didn't deserve it because we didn't play consistently for 40 minutes."
Copyright 2018 The Associated Press. All rights reserved. This material may not be published, broadcast, rewritten or redistributed. We strive to uphold our values for every story published.