Islamabad, Pakistan — The United States and its allies have intensified searches along the border between Afghanistan and Pakistan for Osama bin Laden and other terrorists they fear may respond to war against Iraq with attacks, intelligence sources say.
The sweeps followed the March 1 arrest of al-Qaida's third most powerful man, Khalid Shaikh Mohammed -- suspected mastermind of the Sept. 11 attacks.
In the hours after his arrest, a belligerent Mohammed praised Osama bin Laden and warned that "America will burn if it goes into Baghdad. Americans everywhere will not be safe," Pakistani intelligence officials told The Associated Press.
Pakistani officials Wednesday denied an Iran Radio report that bin Laden had been captured in Pakistan.
Murtaza Poya, deputy leader of the Islamic Awami Tahrik Party in Pakistan, who was quoted by Iran Radio, gave AP in Islamabad similar information.
"He (bin Laden) is in the custody of those who were chasing him and the announcement to that effect will be made between March 17 and 18th when the war in Iraq is expected to start," Poya said in a telephone interview.
He refused to identify the source of his information and said he was not told where bin Laden was apprehended or being held.
Pakistani officials said Poya was wrong.
"It is not correct," Interior Ministry Secretary Iftikar Ahmed told AP. "This is just not true," said Brig. Javed Iqbal Cheema, Pakistan's intelligence coordinator in the war on terror.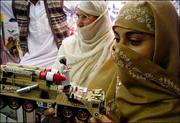 Pakistan Information Minister Sheikh Rashid Ahmed also denied the report and also told a news conference earlier that "Osama is not in Pakistan; we have no information about Osama bin Laden and if someone has this information he should tell us."
In Washington, the CIA said there was no truth to the reports. "We have absolutely no information to substantiate that," said spokesman Bill Harlow.
At Bagram Air Force Base in Afghanistan, the headquarters of the U.S. military there, knew nothing of bin Laden's arrest.
"We have no information that Osama has been captured," U.S. military spokesman Army Master Sgt. Richard Breach said.
Meanwhile, the Pakistani spy agency in a rare briefing for journalists this week, said Khalid Shaikh Mohammed admitted meeting bin Laden last December but didn't say where. A video was shown depicting the arrest of Mohammed, whose face was never shown and whose head was covered by a black hood.
Meanwhile, an intelligence source told AP that Mohammed was questioned at a "safe house" belonging to the Pakistani spy agency. They said his head was covered in a black hood and he spoke in English and Arabic. American interrogators were present, but Mohammed did not see them.
Since launching the stepped-up assault along the border, Pakistani sources said "we are making arrests everywhere." They did not elaborate.
A European intelligence source said Pakistani military and paramilitary forces have staked out the tribal corridor that runs between Pakistan and Afghanistan, sweeping through rugged pockets that could provide a haven for Taliban and al-Qaida fugitives.
While the entire border is suspect, Pakistani forces are concentrating in southwestern Baluchistan province between Quetta and the Iranian border. They're also focusing on the North West Frontier Province, near Balikot, 120 miles (190 kilometers) northwest of the federal capital of Islamabad, and farther northwest in the Chitral area, according to Pakistani intelligence officials.
Bin Laden is not the only focus of the hunt. They also are searching for other al-Qaida operatives, Taliban and loyalists of renegade Afghan rebel leader Gulbuddin Hekmatyar.
A poster depicting 16 wanted men, including Hekmatyar, bin Laden and Taliban leader Mullah Omar has been circulated in the region, as well as leaflets reminding people of the US$25 million reward for their capture.
The posters are written in Persian and Pashtu, the predominant languages of the region.
Copyright 2018 The Associated Press. All rights reserved. This material may not be published, broadcast, rewritten or redistributed. We strive to uphold our values for every story published.