Red Cross collecting care packages for troops
Douglas County Red Cross receives daily calls from those who want to help military troops, but Director Jane Blocher said care packages needed to adhere to specific regulations.
Packages brought to the Red Cross for shipment cannot exceed 45 pounds and should not be bigger than 18x12x10 inches. Nothing should be wrapped, and the box should be left unsealed so its contents can be inspected, Blocher said.
Also, donors may be expected to pay up to $15 to ship the care package.
"Some people might balk at that, but no chapter has it in their budgets to pay those postage costs," she said.
Items requested by troops include everything from microwave popcorn to paperback books, but for a complete list of items and regulations, log on to redcross.org or contact Blocher at 843-3550.
Sports
Kusports.com offers Big 12 tourney tips
If you're looking for a one-stop place for information about the Big 12 men's basketball tournament in Dallas, check out kusports.com.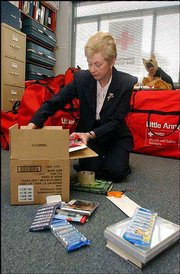 On the site, you'll find a travel guide that provides information including game schedules and a downloadable bracket. There's also information about the American Airlines Center basketball arena, including a seating chart and parking information.
You can also find where the KU-related parties are in Dallas -- from pre-game rallies to post-victory celebrations.
There is also a link to the official Jayhawks hotel (AmeriSuites), links for other Big 12 hotel deals and a Dallas visitors guide.
And, if you're getting a late start, you can also find driving directions for the 518-mile trip from Lawrence to Dallas.
Fund-raiser
Vinland Fair supper scheduled for Saturday
The annual Whole-Hog Sausage and Pancake Supper to benefit the Vinland Fair will be served from 5 p.m. to 7:30 p.m. Saturday at the Vinland Fairgrounds, 10 miles southeast of Lawrence.
The event is a fund-raiser for the 96th annual Vinland Fair, scheduled for Aug. 7-9. The fair board and community members volunteer their time to prepare and serve the supper.
Copyright 2018 The Lawrence Journal-World. All rights reserved. This material may not be published, broadcast, rewritten or redistributed. We strive to uphold our values for every story published.