Bill Whittemore and Banks Floodman were back on the football field Wednesday, showing few signs of the knee injuries that ended their seasons last fall.
Whittemore is expected to be Kansas University's No. 1 quarterback as a senior after starting eight games last year. He missed the final three games of his junior season after tearing the medial collateral ligament in his left knee Oct. 26 at Missouri.
"We had him do some drills, and he looked good," said KU coach Mark Mangino, whose team opened spring drills on a cool, overcast day on the practice fields behind Anschutz Sports Pavilion. "He feels good. We'll go light with him again on Friday, and then we'll talk to our medical staff. If they think he's ready to cut loose, we'll cut him loose when we come back from spring break."
KU will have a closed practice Friday before taking a week off for spring break. The team will work out in full pads at a closed practice March 24.
The Jayhawks' next open practice will be March 28.
Whittemore's injury did not require surgery, but Floodman was not as fortunate. The sophomore linebacker had eight tackles, one sack and a quarterback hurry in the first half of the season-opener Aug. 31 at Iowa State, but Floodman tore his right anterior cruciate ligament late in the second quarter and missed the rest of the season.
Mangino said Floodman, like Whittemore, would be re-evaluated after Friday's practice.
Floodman -- who took a medical red-shirt last season and did not lose any eligibility -- joined the team Wednesday but was held out of "those things where we worried about legs getting tangled up and making a pile," Mangino said.
KU's players did not talk to the media Wednesday.
¢
Versatile Reid: Nick Reid came to Kansas as a freshman quarterback last season, but the Derby High graduate moved to safety during two-a-day practices. After Floodman's injury, Reid moved to linebacker and made six starts.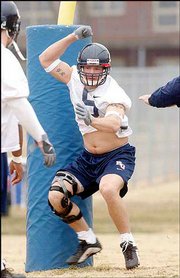 The true freshman made such an impact that as a sophomore he will be KU's top returning player in tackles (62), sacks (six) and forced fumbles (two).
He might not be a linebacker, though. Reid, who played quarterback and defensive back at Derby, practiced at safety Wednesday.
Mangino said the move had more to do with KU's problems in the secondary than it did with the return of Floodman.
"We need to shore up the safety position and make it stronger," Mangino said. "We feel he might be the guy to do it."
¢
Jones on move, too: Adrian Jones caught 14 passes for 140 yards and one touchdown as a junior tight end last season, but Whittemore won't be throwing to the 6-foot-5, 260-pounder unless Mangino calls a tackle-eligible play.
Jones practiced at left tackle for the first time Wednesday.
"He did a good job today," said Mangino, whose defense ranked last in the Big 12 Conference last season during a 2-10 campaign. "I was really pleased. Certainly, he doesn't know what's going on, but he's learning. He's got excellent feet. He's a very strong guy. He's smart. I think he's going to be really good at that position."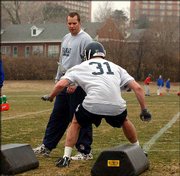 The coach said the Dallas native will need to gain about 20 pounds to be effective at his new position.
¢
Coach pleased: KU's first spring practice was originally scheduled for Monday, but that workout was postponed because of cold weather. The Jayhawks were eager to get started Wednesday.
"It was the most businesslike practice I've been around in a couple seasons," Mangino said. "I was really pleased with the way our kids were focused today, learning, working hard to execute their assignments. We've got a long way to go. We know that, but I'm really pleased with the attitude our players showed up with today."
Copyright 2018 The Lawrence Journal-World. All rights reserved. This material may not be published, broadcast, rewritten or redistributed. We strive to uphold our values for every story published.