Topeka — The House gave first-round approval Wednesday to a bill regulating abortion clinics after rejecting attempts by abortion rights supporters to rewrite the measure.
The 77-44 vote put the bill in position for a final vote today, which could send the measure to the Senate.
The bill would require the Kansas Department of Health and Environment to set minimum health standards for the seven Kansas clinics performing abortions. Proponents said the standards would protect women.
But critics remained skeptical because backers of the bill oppose abortion, and the measure's passage is the main legislative goal this year of Kansans for Life, the state's largest anti-abortion group. Abortion rights supporters contended that the bill was designed to make operating a clinic too expensive.
Abortion rights supporters offered proposed changes they said would prevent the state from targeting abortion providers.
Rep. Rick Rehorn, D-Kansas City, offered an amendment to require KDHE to establish minimum health and safety standards for all outpatient surgeries performed in doctor's offices, not just for abortion clinics.
Rep. Deena Horst, R-Salina, offered a proposal to require KDHE to determine what other medical procedures are as risky as abortion and regulate them accordingly.
And Rep. Judy Loganbill, D-Wichita, attempted to change the bill so that violations of KDHE's regulation would subject clinics and individuals to fines, rather than to prosecution for a misdemeanor.
The House voted 75-49 against Rehorn's amendment and 73-49 against Horst's proposal. Loganbill's failed on a voice vote.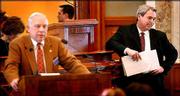 "We need to address the problems occurring at abortion clinics," said Rep. Peggy Long, R-Hamilton, an abortion opponent.
Under the bill, KDHE would establish minimum standards for the space that clinics must reserve for bathrooms, interview and counseling rooms and patient dressing rooms. KDHE also would have to set standards for equipment, lighting, ventilation and exam tables.
Some standards are specifically prescribed in the bill.
For example, every clinic would be required to have a doctor as its medical director; to have a licensed nurse present during any physician's exam; and to have ultrasound equipment if it offered abortions after the 12th week of pregnancy. Also, the bill spells out the questions a physician must ask in compiling a patient's medical history.
Long said she had heard anecdotes about women who died or had serious complications after an abortion. She said women who had problems after an abortion were afraid to come forward because there was a stigma associated with having the procedure.
"Women who have had abortions have experienced a lot of shame," she said. "I'm saying these are vulnerable women."
But abortion rights supporters noted that KDHE has reported no abortion-related deaths since 1990, while 106 people have died after other surgical procedures during the same period.
"Abortion is a medical procedure, just like a colonoscopy, an appendectomy or a tonsillectomy," said Rep. Paul Davis, D-Lawrence. "The data shows abortions are safe procedures in Kansas."
Clinic regulation bill is HB 2176.
Copyright 2018 The Associated Press. All rights reserved. This material may not be published, broadcast, rewritten or redistributed. We strive to uphold our values for every story published.