The owner of one of Lawrence's oldest college bars is setting his sights toward an older crowd.
Rob Farha, owner of The Wheel, confirmed Monday that he has leased the former Fifi's Restaurant building at 925 Iowa. He plans to convert the building into an upscale cocktail lounge.
"I think it is something that is needed in town," Farha said. "My view is that everything in this town is either oriented to the college crowd, or if it is not purely college, it is a sports bar."
The bar, to be called The Bella Lounge, will feature soft lighting and soft music that will allow patrons to carry on a conversation, Farha said.
"I'm thinking we'll have a piano player sometimes, maybe a three-piece jazz band sometimes, or maybe even a singer or two that does Sinatra or Dean Martin," Farha said.
Farha said he was also thinking of establishing a minimum age of 25 years old to enter the lounge. A dress code, such as a no-hats policy, also may be in the offing, Farha said.
Farha said he would continue to own and operate the nearly 50-year-old Wheel, 507 W. 14th St.
"I'm still completely committed to that," Farha said. "The way I figure it is that I've got one great college venue, but as I get older there is a part of me that wants something a little different. I'm a big fan of the Rat Pack and the class it has. That's what I'm looking to do."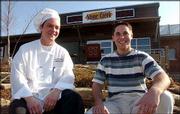 Renovation work is under way on the former Fifi's building, and Farha said he hoped to have the business open by May 1.
In other news in the Lawrence restaurant and bar industry:
Stone Canyon has a new name, new owner and new menu. The restaurant at 3801 W. Sixth St. is now called Stone Creek, and it has expanded its pizza and pasta menu to include steaks, chops, seafood and other items off a soon-to-be-installed grill.
"We think by expanding our menu, we'll be able to serve a larger variety of customers," general manager Kyle Wegner said. "Our menu was fairly limited before."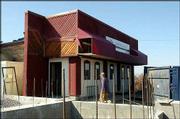 The restaurant's ownership also had changed. Lawrence builder David Clemente is still part of the ownership group, but owner/operator Kevin Heaton has sold his interest to Topeka businessmen Rod Donovan and Ron Faught.
Neither Donovan nor Faught have been in the restaurant business before, but Donovan said the pair decided to enter the business because they believed the restaurant had untapped potential.
"We have an extremely nice building here," Donovan said. "We basically think it will do a lot better if we take the sports bar, big screen TV, pizza place and turn it into a full-service restaurant business."
Heaton, who is still in the restaurant business in Parkville, Mo., kept the rights to the name Stone Canyon, so the Lawrence restaurant had to change its name.
The former Village Inn building at 821 Iowa has been purchased by an owner of Lawrence's Peking Taste Chinese Restaurant.
Sunny Liu confirmed that he purchased the building and planned to open a sports bar called Moon Bar in early May. Liu said the bar would feature karaoke rooms, but other details were still being developed.
Copyright 2018 The Lawrence Journal-World. All rights reserved. This material may not be published, broadcast, rewritten or redistributed. We strive to uphold our values for every story published.