In 20 years, if downtown Lawrence continues to have a historic "feel" that draws tourists, shoppers and businesses, the city will have Dennis Enslinger to thank -- at least in part.
Enslinger, the city's historic resources administrator, oversaw the process of developing the Downtown Design Guidelines two years ago. During his eight years with the city, he also helped create an East Lawrence Revitalization plan and started on a citywide Historic Preservation Plan.
Now Enslinger is leaving, taking the post of senior planner in the comprehensive planning division at Independence, Mo. Historic preservation advocates in Lawrence say they'll miss his knowledge and efforts.
"I think it will be a great loss to the community," said Carol Von Tersch, president of the Lawrence Preservation Alliance. "Dennis has helped us understand what the options are in restoration and renovation projects. He's been an incredible resource."
Enslinger said Lawrence was rich in its own resources of historic buildings and sites.
"I think people in Lawrence view historic preservation as a way to maintain the unique character and identity of the community," he said. "When people visit, you take them downtown or to Old West Lawrence or to campus, all historic preservation sites. That's what sets Lawrence apart from other communities."
He started with the city in 1995 as its first full-time official in charge of historic preservation.
"He took a fledgling historic preservation program and grew it," Planning Director Linda Finger said.
Most of Enslinger's work was in helping Lawrence residents understand historic preservation requirements -- for properties near sites on the National Register of Historic Places -- and take advantage of incentives for restoration.
But he was also the city's public face on bigger historic preservation issues. He represented the city's Historic Resources Commission in making the case against Kansas University's demolition of century-old houses in the 1300 block of Ohio.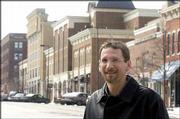 And he helped steer creation of the Downtown Design Guidelines, which require new and renovated buildings downtown to conform to the area's historic look.
"It keeps downtown looking the way we want it to look," said Melodie Christal, co-director of Downtown Lawrence Inc. "I don't think it would've happened without Dennis."
Enslinger minimized his role in the projects.
"I don't think I have a legacy -- all the projects I've dealt with are community projects," he said. "Individuals here really care about how the community looks and should develop."
Enslinger's last full day of work is Friday.
Copyright 2018 The Lawrence Journal-World. All rights reserved. This material may not be published, broadcast, rewritten or redistributed. We strive to uphold our values for every story published.