The world of photography is going digital and celebrity photographer Greg Gorman's resistance to that development is waning.
"I thought I could avoid computers," Gorman said Monday during an appearance at Kansas University. "I thought digital was a good excuse for poor photographers."
Now a majority of his photojournalism work is done with digital cameras and he processes digital film at his Los Angeles-area studio, he said.
Gorman, who grew up in Prairie Village and attended KU in 1967-69, spoke to about a dozen students in instructor and Kansas City Star photographer Tim Janicke's advanced photojournalism class.
Gorman initially made a name for himself shooting photos of celebrities for magazines. He showed slides of his digital and film photos to the students and discussed the equipment and techniques he used to take and produce them.
Gorman's celebrity photos for magazines and his own portrait work has featured Robert De Niro, Al Pacino, Sharon Stone and Jodie Foster, to mention a few.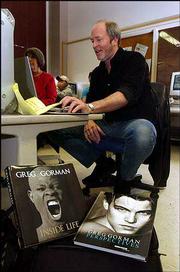 Digital cameras have gotten better and faster in the last couple of years, Gorman said. In the future "there's not going to be much film left," he said.
The biggest problem with digital photography is the editing, Gorman said.
"It's a hell of a lot easier to edit transparencies than digital files," he said.
Gorman's work is featured in several coffee-table books of art photography. His next book project will feature the great winemakers of the world, he said.
Gorman's photos and his knowledge of photography impressed Janicke's students.
"He's amazing," said Lindsey Gold, an Overland Park freshman.
Kelley Weiss, a senior from Baldwin, agreed. She was struck by his frequent use of black-and-white photos.
"He has a distinctive style in his portraits," she said.
Copyright 2018 The Lawrence Journal-World. All rights reserved. This material may not be published, broadcast, rewritten or redistributed. We strive to uphold our values for every story published.