Annkara, Turkey — Governing party leader Recep Tayyip Erdogan won a seat in parliament by a huge margin Sunday, a crucial victory that opens the way for him to become prime minister and strengthens his hand in uniting a government divided on allowing in U.S. troops for an Iraq war.
The charismatic Erdogan -- already the nation's de facto leader -- has advocated the U.S. troop de-ployment in Turkey, and analysts say one of his first moves as premier could be to purge ministers who oppose it.
Prime Minister Abdullah Gul is expected to resign Wednesday to make way for Erdogan to take over the government, after Erdogan's Justice and Development Party overwhelmingly won by-election balloting in the southern town of Siirt. Gov. Nuri Okutan of Siirt said Justice captured 84.7 percent of the vote. Justice is likely to have won all three seats that were contested Sunday.
It was unclear when parliament would be ready to take up a new resolution on U.S. troop deployment, after lawmakers failed to approve a resolution March 1.
Turkish media say a vote could come as early as Thursday, but members of the Justice Party said it might be two weeks before a new government is in place.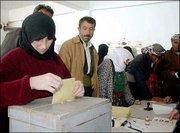 When asked when a new resolution would be introduced, Erdogan said, "We have the U.N. Security Council before us; we have the process of forming a new government. We need to assess all these very carefully, and then we will take a decision."
Erdogan's election was likely to end some of the confusion within the Turkish government. Gul is head of the administration, but Erdogan leads the ruling party and is widely regarded as the power behind the scenes. It was Erdogan whom President Bush invited to the White House after Turkey's national elections in November.
Some analysts say those muddled lines of authority contributed to the failure of the deployment resolution by a mere four votes in the 550-seat parliament -- despite Justice's huge majority of 362 seats.
Copyright 2018 The Associated Press. All rights reserved. This material may not be published, broadcast, rewritten or redistributed. We strive to uphold our values for every story published.