Columbia, Mo. — Aaron Miles would like to say his perfect shooting form, mental toughness and gamesmanship enabled him to sink the 23-foot three-pointer that forged a tie Sunday afternoon against Missouri at Hearnes Center.
But that would be stretching the truth.
"I ain't gonna lie. It was luck, pure luck. I smiled after I made it. I knew it was luck," said Miles, Kansas University's 6-foot-1 sophomore point guard.
His desperation three-pointer and a 25-foot three by Kirk Hinrich on KU's ensuing possession turned a three-point deficit into a three-point lead as the Jayhawks claimed a 79-74 victory over the Tigers.
"I thank God for that shot. Somebody up there wanted us to win," Miles said after the Jayhawks wrapped up an undisputed Big 12 Conference title for the second straight year, improving to 14-2 overall compared to Texas' 13-3 mark.
Miles' three was a prayer, all right.
Miles, a 23-percent three-point shooter, accepted a pass from Keith Langford and released a line-drive bullet over MU's Ricky Clemons with the shot clock down to one second.
"It was all about getting it to the rim," Miles said. "At first, I was going to take a regular shot, but when Clemons ran at me and was all over me, I just wanted to get it to the rim so we could get a rebound."
Langford, in fact, headed to the hole to rebound after making the unwise pass.
"My first thought is, 'I shouldn't have passed it,'" Langford said. "My second thought was, 'Get to the goal.'"
KU coach Roy Williams minutes earlier had bawled out Miles for committing a silly turnover and not hustling to defend a Clemons three.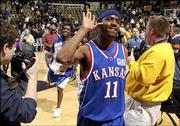 "Aaron's shot was pure luck. I've never seen a shot go in the basket that hard in my entire life," Williams said, adding, "I didn't expect a shot put, a two-handed sinker ball, to go in like that.
"Now, Kirk's was more a basketball shot."
After Miles' trey, Missouri's Rickey Paulding missed a field goal -- he was 5-for-20 on the day, but was 11-for-11 on free-throw attempts -- with a minute to play.
KU had possession with the game tied at 74, and the Jayhawks called timeout at :45 with 23 seconds left on the shot clock.
At that point, Hinrich boldly told Williams that Hinrich would stick a jumper if the play came his way.
"He said, 'If I get it, I'll make it,'" Williams said. "He'd missed one from the corner earlier and was really upset with himself."
Hinrich had the ball out front, but passed to Nick Collison, who fired an airball from the baseline with :27 left.
Michael Lee, who had a big game with 11 points and three boards, rebounded and passed to Hinrich, who was way, way behind the three-point line coming off a screen when he swished the game-winner at 22.1.
Just like Miles' offering, Hinrich released his bomb just before the shot clock expired.
"I got the ball coming off a screen, but wasn't open, so I passed to Nick. His open shot didn't hit the rim," Hinrich said. "I didn't know if Mike (Lee) knew that it didn't hit the rim, and the shot clock was going to run out, so I yelled, 'Throw it to me, throw it to me.'"
Hinrich and Collison scored 20 points each. Hinrich made eight of 14 shots and three of five threes, while Collison hit eight of 19 shots.
"We were a little bit lucky tonight. Aaron's shot was amazing because it was so flat and still went in," Hinrich said.
Down by three after Hinrich's bucket, MU turned to Paulding, who put up a three that was closely guarded by Hinrich with :13 left.
Collison rebounded the miss and passed to Miles, who missed a free throw at 8.3 seconds. KU rebounded, and Langford was fouled with a second left, canning two free throws for the final margin.
"I told the guys we were lucky, but sometimes you put yourself in position to take advantage of some luck," Williams said.
The Jayhawks, who led, 38-31, at halftime, forced Missouri into 11 first-half turnovers and 25 percent shooting. They led by a game-high nine points (48-39) with 16:17 to play.
But Clemons, who hit four threes and scored 16 points the second half, started to sizzle, and MU grabbed its first lead at 57-56 with 9:20 left.
Missouri led, 72-69, following a pair of Clemons threes and an inside shot by Arthur Johnson with 2:59 left.
Collison canned a 12-flooter, slicing the gap to one point with 2:48 left.
Paulding hit two free throws at 1:55, the charities preceding Miles' miracle three at 1:20.
"We really wanted to win," Williams said. "It's pretty easy. It's the senior's last game against Missouri. Missouri games mean something to us. It's a very special rivalry."
The Jayhawks (24-6, 14-2) won their fifth straight game versus MU (18-9, 9-7).
"Needless to say, I'm proud of the team," Williams said. "If you told me before the year we wouldn't have Wayne (Simien, injured player), I'd have said it'd be difficult.
"(Texas coach) Rick Barnes said before the season that the winner of this league would have three losses. I'd probably have said four. To go 30-2 in this league the last two years is something we're really proud of."
Copyright 2018 The Lawrence Journal-World. All rights reserved. This material may not be published, broadcast, rewritten or redistributed. We strive to uphold our values for every story published.