Overland Park — Free State High probably could have mailed in its Class 6A sub-state girls basketball score instead of showing up Friday at Overland Park Aquinas.
Still, you wouldn't have found a single Firebird willing to lick the stamp.
"We came out and took it right at 'em," Free State coach Bryan Duncan said. "Our goal was to play them tight and see what happened."
Free State played the Saints tight for five minutes, but then depth, size and talent took over, and Aquinas rolled to a 65-31 triumph, the Saints' 18th in 21 games.
After five minutes, the score was deadlocked at 10, thanks largely to Jamie Stanclift, a 5-foot-9 sophomore who scored the Firebirds' first three baskets, all from inside.
"Something lit me up," Stanclift said. "I know I tried to put it all out there."
Stanclift finished with 16 points, more than half the Firebirds' total. Duncan called Stanclift's performance "spectacular" and, more importantly, she gives the Firebirds (4-17) hope for next year and the year after.
"We told her if she plays like that the next two years we'll beat some people," Duncan said. "She went right at them."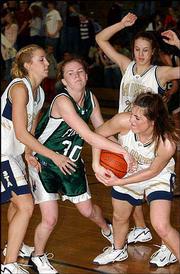 Unfortunately, the Saints went right at the Firebirds in the second quarter, using a full-court press that gave Free State fits. Aquinas outscored the Firebirds 27-6 in the quarter and held an insurmountable 45-19 halftime lead.
"They're a great basketball team and we've struggled against pressure all season," Duncan said. "They put on that press, and we couldn't recover."
Free State finished with 25 turnovers; Aquinas had only five giveaways.
It might have been worse, but Aquinas coach Rick Hetzel used reserves most of the fourth quarter and the Saints scored only one point in the last five minutes.
Lauren Wenski, one of the Kansas City metro area's top players, led the Saints with 16 points, sharing high-scoring honors with Stanclift. Carolyn McCullough, a 6-1 senior pivot, added 11, as did reserve Lindsay Ballweg, a 5-10 freshman.
Duncan loses only two seniors off this junior-dominated Free State team. Stanclift and reserve guard Megan Wyatt were the only sophomores on the varsity. Consequently, Duncan believes his second year as the Firebirds' coach will be more successful than his first.
"We think we established the work ethic and the desire," he said. "Now the offseason is our next step, and we have some good younger girls coming up, too."
Said Stanclift: "We learned a lot of things this season. I feel we improved so much, and I think the future is positive."
Copyright 2018 The Lawrence Journal-World. All rights reserved. This material may not be published, broadcast, rewritten or redistributed. We strive to uphold our values for every story published.