Alex Brunfeldt hopes his new Fastskin swimsuit performs as slick as it looks.
Brunfeldt, a junior at Free State High and member of the Lawrence Aquahawks swim club, needs to shave six seconds off his 1,000-yard freestyle time, from 9:39 to 9:33, Thursday at the U.S. Junior Sectional Meet in St. Louis.
If he does, he'll qualify for the U.S. Junior Nationals next month.
"I think it'll make a difference," he said. "And with other people pushing you, I'll get it."
Brunfeldt is one of 19 Aquahawks making the trip. The city swim club, which has swimmers ages 13 to 18 competing in the four-day event, does this every year. They train year-round, increase their swimming workload when winter hits, then taper in late February.
By Thursday, they'll be at their peak.
"This is the meet where you want to swim fast," Aquahawks coach Michael Soderling said. "You want to go for the performance of a lifetime."
The field includes swimmers from Kansas, Missouri, Arkansas, Iowa, Nebraska, Oklahoma and parts of Illinois. The fastest from the country's 10 sectionals qualify for nationals, April 7-11.
Six Aquahawks are from Kansas City, two from Topeka and one from Leavenworth. Ten are from Lawrence.
All likely will end up swimming in college.
"Eventually, they all end up there," Soderling said. "Some go NAIA, some go Division II. The top eight swimmers at something like this will probably go D-I."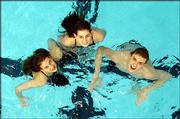 Several college recruiters and coaches will be in St. Louis, but few of the swimmers will know that. Soderling said just the juniors and seniors were aware of them. The rest of the meet is pressure enough for the younger swimmers.
"The pressure comes from it being the last meet of the season," he said. "They're just all trying to drop their times. That's the pressure."
One Aquahawk, West Junior High freshman Ashley Robinson, already has qualified in the 1,000 and 1,650. She's also going to wear a Fastskin, along with FSHS sophomores Ashley Jackson and Anthony Portela.
Jackson became acclimated to her suit at Tuesday's practice, the first time she had worn it. Black and shiny, it comes up to her shoulders, but leaves the back open.
"It's something I've been thinking about buying for a long time, ever since I got into competitive swimming," she said.
Fastskins either cut down drag and improve times or have no negligible effect, depending on the swimmer, the race and the swimmer's style.
But when it comes to cutting precious seconds off a time, the mental edge a Fastskin provides might be worth it.
Brunfeldt, who owns four school records and was the state champ in the 500 free this season, is banking on the mental edge.
The 1,000 and 1,650 are by far his best events, but they don't exist in high school meets.
"He was really out of his element (in high school)," Soderling said. "He can do pretty well in those events, and at the high school level he's at the top. But his best two events are the 1,650 and the 1,000."
That keeps Brunfeldt in the pool about 25 hours a week, swimming roughly 10,000 yards a day.
Brunfeldt, two seconds from qualifying in the 1,650, also wore a Fastskin Tuesday, but his is just a lower-body suit that looks thick and restrictive. Brunfeldt said it was comfortable, but he said it took time to get used to the smooth, resistance-free feeling.
"It does feel a little weird," he said. "I can't feel the water on my skin at all."
Sounds fast enough.
Copyright 2018 The Lawrence Journal-World. All rights reserved. This material may not be published, broadcast, rewritten or redistributed. We strive to uphold our values for every story published.