Manhattan — The points came in bunches for Rickey Paulding, just when Missouri needed them -- and a road win -- the most.
Paulding scored eight of his 23 points inside the final two minutes Saturday as the Tigers pulled away to beat Kansas State, 77-70, for just their third victory in nine road games this year.
Not bad for someone who, early in the second half, was sprawled face-down on the floor after being undercut by Kansas State's Gilson DeJesus as Paulding went up near the basket.
"It looked scarier than it was," said Paulding, his left wrist encased in an ice pack after the game. "I don't think it was intentional. I just wanted to stay down there for a while to see how bad it was."
Josh Kroenke took the free throws for Paulding, hitting both. Paulding immediately came back into the game, and soon after that he hit a basket and followed that up with a three-point play for a 44-39 lead.
"He just had the will not to let us lose," point guard Ricky Clemons said.
Clemons, playing with a broken left hand for the second straight game, also hit several clutch shots for the Tigers (18-7 overall, 9-5 Big 12 Conference).
Clemons, who finished with 17 points, went 0-for-4 from long range in the first half. But his two three-pointers helped Missouri overcome a second-half run by the Wildcats, and he went 4-for-4 from the line in the final 26.8 seconds.
"You really saw the maturity of Ricky Clemons," MU coach Quin Snyder said. "Earlier in the season, we would have lost him. He hung in there and stayed with the team and got rewarded for it by making some big baskets."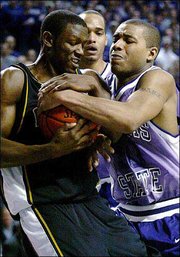 DeJesus led Kansas State (13-14, 3-11) with four three-pointers and 17 points before fouling out.
Matt Siebrandt added 16 points for the Wildcats, who went 61¼2 minutes without a field goal late in the first half and early in the second before Tim Ellis finally hit a jumper with just under 15 minutes left.
Free-throw shooting kept the Wildcats in the game, though, and they went up by five points as DeJesus hit two three-pointers in a 10-0 run midway through the second half.
His second one gave Kansas State a 56-51 lead with 71¼2 minutes left, but Missouri came back to take leads of 60-59 and 65-62 on three-pointers by Clemons.
"We answered," Clemons said. "They hit shots, and we answered. That's what you have to do on the road -- hit the shots and take their crowd out of the game."
Copyright 2018 The Associated Press. All rights reserved. This material may not be published, broadcast, rewritten or redistributed. We strive to uphold our values for every story published.