Older campers attending Kansas University basketball coach Bill Self's basketball camp June 18 might have thought they were seeing a scene out of a movie when former KU player Ron Kellogg made his return for the camp's alumni game.
Kellogg, much like the character Shep in the 1994 film "Above the Rim," responded to a long layoff from the annual contest by hitting nearly every shot he took.
"Yeah, yeah ... that's what he looked like," said former Jayhawk Nick Bradford, who played in Tokyo last season, about the comparison of Kellogg to Shep. "We knew he could still shoot, so we were definitely trying to set him up."
Kellogg, who played for KU from 1982 to 1986, drilled his first five shots from behind the three-point line to provide the alumni team with a healthy advantage.
It didn't matter where Kellogg released or which younger Jayhawk defender was on him. The ensuing result always was the same sound of leather tickling nylon.
"Hey, I may be a veteran, but I can still shoot," Kellogg said with a chuckle. "You don't lose your shot over the years."
'I love to be able to give back to the kids'
The 40-year-old Kellogg, who lives with wife, Latrice, and their three children -- Ron Jr., Jordan and Taylor Arlene -- in Omaha, Neb., finally missed a shot.
But even a long air ball on a three-pointer late didn't keep Kellogg from kicking it up again.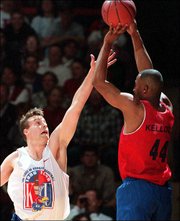 However, Kellogg's second off-balance shot, which would have been the game-winner, also rimmed out.
Still, like Shep, Kellogg's team emerged victorious, 80-77, with him tying for game-high honors with KU junior Keith Langford with 17 points.
In the process, Kellogg said he perhaps taught the campers a lesson of hard work and perseverance -- much like the moral in the movie, in which Shep guides a talented young baller to college and out of the misguided path of the drug underworld.
The leadership part of Kellogg's personality has become his passion. Kellogg, who still plays pickup ball religiously, has worked with several youngsters to help them improve their games.
"I enjoy coaching," Kellogg said. "I've helped a lot of kids over the years make their high schools teams, and it's a lot of fun."
But now Kellogg, a computer operator for America National Bank in Omaha, has his sights set even higher. He is playing host to a clinic called Camp David Sports, July 11th outside of Omaha, which includes a tournament for high schoolers as well as individual training sessions.
"I'm pretty excited about this," he said. "I love to be able to give back to the kids and help them pursue their dreams."
'This whole family thing'
Kellogg wasn't the only former Jayhawk back in town who enjoys giving lessons to the kids -- and they're not always talking about the basketball campers.
Steve Woodberry, who played in Lithuania for his third straight season, said he thought the older Jayhawks taught the current team a few tricks in both public scrimmages this summer.
"It shows that if you take bad shots, you're going to give up layups, because us old guys know how to read shots and run with them," said Woodberry, who scored 23 points in the alumni team's 80-71 victory June 25. "I wish the younger guys would have came out with a little more intensity on defense, but they kind of caught up with us in the second half."
Billy Thomas, who played in both pickup games with Woodberry and Bradford, said he hoped the younger guys would learn a lesson from the public scrimmages and also their not-so-publicized workouts with current KU players.
"That's what we're always trying to do is help them out," said Thomas, who, after coming off his second season in the National Basketball Developmental League, will play for the Orlando Magic's summer-league team this summer.
"We want these guys to be the best they can for themselves and KU, because that's the way guys helped us out when we were in their shoes. If we can give back some of the advice that we've learned in our career, then that's what this whole family thing is about."
Sold on Self
Kellogg, who was playing for the first time in the alumni game since he attended Roy Williams' first basketball camp, said he was excited to see his former assistant coach, Self, back with Kansas.
"I think he's going to be an integral part to our program," Kellogg said of KU's new leader. "Nothing is going to change at all since coach Williams left.
"He's young, he's vibrant, he's exciting. I think the kids are going to play looser. And I think we have a great opportunity to go back to the Final Four and the finals."
While his playing days in a Jayhawk uniform are way behind him, Kellogg isn't ruling out a return appearance to shine again with fellow members of the KU basketball family.
"I haven't played since I worked coach Williams' first camp," Kellogg said, "and we won. Every time I come back we win, so I can't argue with that."
Copyright 2018 The Lawrence Journal-World. All rights reserved. This material may not be published, broadcast, rewritten or redistributed. We strive to uphold our values for every story published.