They're still out there, "grinding" away.
Five years after the city built a skateboard park to give skaters a place to practice their craft legally, the sport is alive and well in places that aren't sanctioned for skating: downtown, on the Kansas University campus, even in the parking lot of the new Home Depot, where a group of skaters congregated one night last week at the store's closing time.
No doubt the skateboard park, a renovated tennis court at Centennial Park, is popular, and a long-range plan for city parks includes the possibility of another skate park being built within the next 20 years.
But skaters themselves say skate parks are only good up to a point. After all, part of the fun of skateboarding is doing it in a place where it's not deemed acceptable.
"You can't contain skateboarding to a skate park," said 25-year-old skater Mike Fetty. "It's not going to happen."
Skater chased
Safety concerns aside, a major reason some people oppose skating is the damage caused by "grinding" -- a move in which a skater gets airborne, then lands on an object and scrapes across it.
A May 27 incident -- in which a man allegedly threatened to bomb a downtown skateboard shop -- illuminates the problems that can arise when skaters hit the streets.
Sean Smith, 16, didn't have a ride to the skate park that day, so he went to practice his moves on the planters and railings of a favorite illicit skateboarding spot: the Lawrence Public Library, 707 Vt.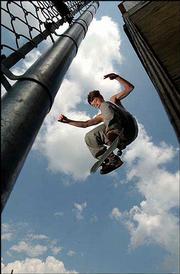 "I was just messing around, having fun, and this guy comes up to me and asks me if I was skating," Smith said. "He went on a little rampage. He said a lot of profanities. He was, like, 'You're ruining this stuff for people who pay taxes.'"
Smith said the man asked him if he wanted to go into the library and turn himself in. Smith refused and started walking away, but the man followed.
Smith headed to the first safe haven he thought of: Let it Ride, a skateboard shop at 15 E. Seventh St. The man followed him inside, where, Smith and manager Stephanie Pugh claim, he told them not to be surprised if the store was bombed the next day.
The 37-year-old man -- a regular at the Salvation Army's shelter, 946 N.H. -- has since been charged with making a criminal threat.
In a recent court hearing, Pugh testified the man told her, "I'm sick and (expletive) tired of your customers ruining this city when they have a skate park to go to."
Irresistible playground
In 1996, after complaints from downtown merchants, the city banned skateboarding in the entire downtown business district, from North Park Street to the Kansas River and between New Hampshire and Kentucky Streets.
Fred DeVictor, director of the city's Parks and Recreation Department, said that city officials felt they should build the $125,000 skate park as an alternative for the city's youths.
Today, complaints from downtown merchants about skateboarding are nearly nonexistent.
"I have not heard a single mention of skateboarding," said Maria Martin, co-director of Downtown Lawrence Inc., the group that brought the complaints years ago.
Former mayor Mike Amyx, owner of Amyx Barber Shop, 842 1/2 Mass., said there was still skateboarding downtown, but he said he didn't pay much attention to it.
But Smith, who has been skating for about a year and a half, said he routinely has confrontations with business owners while he skates downtown. To him and other members of the skateboarding subculture, the city is an irresistible playground-- a place to practice their tricks and let their creativity flourish.
Sgt. Mike Pattrick, a spokesman for the Lawrence Police Department, said police occasionally disperse groups of skateboarders in response to complaints from property owners. Skateboarding downtown is punishable by a $30 fine.
Smith ranked the KU campus as the best place to skate in Lawrence, though he said there had been a "major crackdown" by campus police. Wescoe Hall, with its concrete plaza and wide stairways, is known internationally as a nearly perfect skateboarding structure, Smith said.
The second-best place to skate in Lawrence is the skateboard park, followed by downtown, Smith said. Other skaters speak highly of Southwest Junior High School.
"The only way you can really learn is to skate on the streets. Street skating is, like, the basis of skateboarding," Smith said. "You can only take yourself to certain levels at the skate park."
And, unlike the skate park, the urban landscape is constantly changing. Once word of a new skating spot goes out among skaters, the curbs are likely to get scuffed.
"A company, the city, is going to build something that's going to be good for skating, and everybody's going to want to hit it," said Scott Larson, 17, who was at the skate park recently along with his friend Fetty, who was wearing a T-shirt that read "Arrest me. I'm a skateboarder."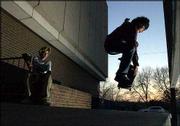 Both men live in small towns in Brown County-- Fetty is from Willis and Larson is from Everest --and had come to Lawrence for the sole purpose of skating at the skate park.
Library plagued
In recent summers, employees of the Lawrence Public Library have had to deal with skateboarders "virtually every day," director Bruce Flanders said.
So far this summer, it hasn't been bad, he said.
"There are so many concrete planters around the library that it makes really good surfaces for grinding-- or whatever they call it," he said. "It really is quite destructive, and it mars the appearance of the library. ... We understand, at the same time, that the way the library is configured, it's just a magnet."
In addition to the damage caused by skateboards, the walls outside the library are covered with tire marks left by BMX bicycle riders -- another group that has the option of using the skate park.
Flanders put up a "No Skateboarding" sign, but he said it kept getting torn down. A few years ago, he took a creative approach to skateboard control by ordering specially designed pieces of plastic from a catalog and bolting them into some of the planters.
Flanders said the bumps, sold under the brand name "Skatestoppers," make it harder for skaters to grind along the surfaces.
Even though the existing skate park hasn't solved the library's problems, Flanders said he was all for skateboarding as a sport and would support the idea of another skateboard park in Lawrence.
A brief history of "street" skateboarding in Lawrence:¢ August 1986: An article about skateboarding in the Journal-World features a group of Kansas University students-- wearing Converse All-Star shoes and rolled-up pant legs --who like to skateboard in front of Wescoe Hall.¢ July 1987: According to a newspaper article, Mayor Mike Amyx begins an effort to prohibit skateboarding on Massachusetts Street after seeing a pedestrian knocked down by a skateboard in front of his barber shop. The City Commission later compromises by banning skateboards on Massachusetts only during business hours.¢ July 1988: The city bans skateboarding at all hours on Massachusetts and a half-block to the east and west of the street.¢ Aug. 27, 1990: An 11-year-old skater loses control of his board on a second-floor patio of Wescoe Hall on the Kansas University campus. The board strikes the head of a 20-year-old woman sitting in a cafeteria below, and her injuries require treatment at Lawrence Memorial Hospital. Later that year, KU erects "No Skateboarding" signs and the city bans skateboarding within 1,000 feet of each side of the campus' main drag, Jayhawk Boulevard.¢ March 1996: Citing increasing problems with skateboarders, a group of downtown merchants asks the city to broaden its ban to the entire business district. The city complies.¢ August 1996: The city provides land -- and Let it Ride, a local skateboard shop, provides ramps -- for a temporary skateboard park in Burcham Park.¢ Fall 1998: The city opens a permanent, 12,306-square-foot, skateboard park in Centennial Park, complete with railings and ledges designed to replicate features of "street" skating.
Copyright 2017 The Lawrence Journal-World. All rights reserved. This material may not be published, broadcast, rewritten or redistributed. We strive to uphold our values for every story published.