Memphis, Tenn. — Anthony Travis spent a year building his muscles to get fit. Or so he thought.
An aerobics teacher challenged him to attend one of her classes, something he dismissed as "easy" and for women.
Travis didn't make it past the warmup. It was an unlikely start for someone who now teaches a class eight times a week called aero boxing, the most popular aerobics class at French Riviera Spas in Memphis, Tenn.
Travis describes aero boxing as a high-energy boxer's workout. Class participants jump like they are skipping rope. They jab, do pushups and crunches -- just about everything a real boxer does except punch another human being.
And they do it all with Travis bouncing, encouraging and weaving around them.
"I thought I was in shape when I had all those muscles," Travis said. "But my heart wasn't in shape. After I started taking aerobics classes, I lost some of the bulk and trimmed 10 inches off my waist."
There are typically 100 students in his Saturday morning class at the spa.
"I've lost two clothing sizes since I started working with Anthony," said Nichole Brooks, 31. "It's a great workout."
Tom Averill, 35, said he comes to the class three times a week. "It helps me relieve stress, and he works me harder than I work myself."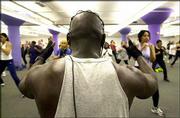 Averill also likes the boxer's workout rather than just a cheerleading-dancing type workout.
The class starts fast with students jumping like they are using a rope then springing their legs in and out. Next, jumping jacks. They proceed to a song full of jabs, with Travis walking around supplying a flat hand to punch.
Twenty minutes into the class, the intensity slows and students stretch their hamstrings and arms. Then they move to stomach crunches.
After that, it's back up for more jabs and jumping jacks and more of Travis weaving around taking a few seconds to give individuals encouragement.
Except for high school football, Travis, 33, was never very athletic. He became a self-described weight-lifting junkie and bulked up for three years.
"I thought aerobics classes were for girls until I took my first one and couldn't last through the warmup," Travis said. "I started coming back."
In 1999 he started taking a kick-boxing class and soon got his certification to teach the class.
"I started adding all sorts of music to my class," he said. "I like everything -- Latin, rap, rock. I realized that people responded if I played music that they liked."
He was also starting when some people taking kick-boxing were beginning to get knee and joint injuries from kicking too high and flicking their legs. He began using the same high-energy music but pacing the class to a boxing workout.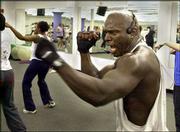 Travis moved to Memphis last year and got a membership at French Riviera Spa. He also began asking the managers to let him teach his class.
"I finally got a call one day because they needed a substitute instructor for an aerobics class," he said. "That was my first chance to teach aero boxing in Memphis. The gym started to get phone calls about the class, and it just took off from there."
Jennie Logan, 28, started the class in September after recovering from gastric bypass surgery. She's lost 100 pounds.
"I needed to find someone to motivate me to keep at the exercise," she said. "Anthony is great. He's always walking around telling us how great we are doing. It definitely helps."
Copyright 2018 The Lawrence Journal-World. All rights reserved. This material may not be published, broadcast, rewritten or redistributed. We strive to uphold our values for every story published.