Nike track team?
Pepsi cheerleading squad?
Barnes & Noble library collection?
Cindy Yulich, who takes a seat Tuesday on the Lawrence school board, said corporate sponsorships ought to be considered as a way to avert future budget cuts in the district's after-school activities.
Encroachment in public schools by companies pushing goods and services will likely spark objections, she said.
But "if it comes to having a program or not, I'd like to look at it," Yulich said. "We owe the kids a well-rounded education."
The Lawrence school board adopted $3 million in fee increases and budget cuts for the 2002-2003 school year that ends Monday. About $1.4 million in staff and program cuts are on the table for the 2003-2004 budget.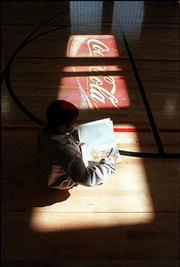 School districts across the country are turning to corporate connections in a last-ditch effort to retain cherished after-school programs. Sports venue naming rights are being sold and ads are showing up on book covers and lesson planners and at school music festivals and golf tournaments.
"They've gone as far in some places as placing advertisements on the buses," said Randy Weseman, superintendent of Lawrence schools.
Soft-drink contracts for public schools are commonplace. In January, the Lawrence school board completed adoption of exclusive soft-drink contracts with Coke and Pepsi for the district's junior high schools and high schools.
The Coke deal for Lawrence High School netted $21,000 in up-front payments, in addition to commissions on machine sales.
Kathy Johnson, the district's budget director, said a districtwide soft-drink contract likely would be considered by the board.
"That is something we'll be exploring the next several months with Coke and Pepsi," she said.
Part of the board's debate about sponsorships should delve into limits on expenditure of corporate revenue, she said. For instance, the board could determine if sponsors pay for one-time costs or ongoing salary expenses.
Philosophical issues of commercialization in public schools also are worth studying, the superintendent said.
"Some people are dead-set against it," Weseman said. "We run on resources. Money is a resource. The lack of it can also hurt the mission, too. Somewhere there has to be a balance."
The Blue Valley school board recently agreed to hire MAI Sports Inc. to assess that district's marketing potential. The idea is to examine opportunities for generating revenue as an alternative to student fees for after-school activities.
Copyright 2018 The Lawrence Journal-World. All rights reserved. This material may not be published, broadcast, rewritten or redistributed. We strive to uphold our values for every story published.