The teens are working again.
Pelathe Community Resource Center and Van Go Mobile Arts had their state funding for teen employment programs restored this month, after the state's $800 million shortfall put the money on the chopping block earlier this year.
The funding means the two Lawrence agencies will be able to put three dozen teenagers to work this summer.
"The center has come back to life," said Pelathe assistant director Caroline Hicks.
Lynne Green, Van Go's director, also is relieved.
"It really allows a program to focus on programming and creating new opportunities for kids," she said, "instead of worrying about where the next buck will come from."
The state cut its $100,000 funding for the Neighborhood Improvement Youth Employment Act, a program that helps local agencies hire at-risk youths, in January. The goal of the program is to put a few dollars in the teens' pockets and keep them in school.
George McAtee, director of work force development programs for the Kansas Department of Human Resources, said the youth employment program was frozen in the last days of Gov. Bill Graves' administration, with the expectation that Gov. Kathleen Sebelius would make the cuts permanent.
"The new governor came in; they took money but they didn't take all of it," McAtee said. "We won't be able to help all the kids, but we'll be able to help a few."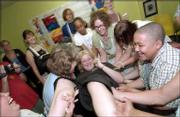 Pelathe and Van Go were slated to receive a combined $42,500 in 2003 for the program. With restored funding, the agencies will receive $26,500.
In the interim, Pelathe's youth staffing dwindled. Van Go managed to keep teens employed thanks to several private commissions, including a mural and newsbox painting for the Journal-World.
"We patched it together," Green said. "It was bump in the road as it turns out."
Now two dozen teens will spend the summer painting benches at Van Go. Pelathe's 15 employees will put on educational programs, plus help with the center's upkeep.
Green said her agency also was aided by a new $71,000 federal Workforce Investment Act grant that should continue for several years.
Both agency directors said the money was for teens who needed it.
"We've got kids who are working for college money, and clothes and to help their families pay the bills," Hicks said. "These kids aren't working for movie money."
Copyright 2018 The Lawrence Journal-World. All rights reserved. This material may not be published, broadcast, rewritten or redistributed. We strive to uphold our values for every story published.