Agra, India — The Taj Mahal has met the mall, and may come out the loser.
India's greatest architectural marvel is threatened with possible monsoon flood damage because of work on a nearby riverbank where a $40 million restaurant and shopping complex was planned.
The government has halted construction, but experts say that what has already been done has hemmed in the Jamuna River, and it could rise and flood the gardens of the Taj Mahal, just 330 yards away.
Particles in the water may harm the monument's white marble, and swirling stones could pound its foundation.
"Sand filling and piles of red sandstone on the riverbed of the Jamuna would damage the basic structure of the Taj when the water level goes up in the monsoon," said D.K. Joshi, member of a monitoring committee appointed by India's Supreme Court.
The Taj Mahal was built by the Mogul Emperor Shah Jahan in the 17th century as the tomb of his favorite wife, Mumtaz Mahal. Its spires, walls and dome took 22 years to build and it was completed in about 1647.
In modern times it has been threatened by pollution from hundreds of nearby factories, leading to a huge cleanup effort and its designation as a UNESCO World Heritage site.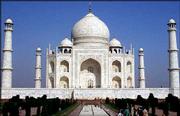 The government of Uttar Pradesh state saw a leisure complex as a way of attracting more tourists. But it would have blocked a view of the tomb from the emperor's bedroom in the Red Fort across the river.
For seven months, the National Project Construction Corp., a state-run company, has been building the foundation in the riverbed for a walkway nearly 3 miles long and 50 feet wide for a Taj Heritage Corridor connecting the monuments.
But on Saturday, the federal governjment stepped in. The Tourism and Culture Ministry ordered the work stopped, saying it violated laws protecting the monument.
Joshi, the monitor, said that even with work suspended, "the construction material dumped in the river bed poses a danger to the Taj in the coming rains."
The Tourism Ministry said it has ordered the construction material removed, but there may not be enough time. The seasonal rains are expected in Agra by the end of the month.
Copyright 2018 The Associated Press. All rights reserved. This material may not be published, broadcast, rewritten or redistributed. We strive to uphold our values for every story published.