Lawrence
Circus music in focus at City Band concert
The Lawrence City Band's fourth concert of the summer season will feature music suited for under the big top. Clowns will be present during the concert, which begins at 8 p.m. today at the South Park gazebo.
Robert Foster will direct the band through circus-like tunes, including "Entry of the Gladiators" by Julius Fucik; "The Big Cage" by Karl King; "The Elephants Tango," arranged by Alfred Reed; and "Circus Bee," by Henry Fillmore.
Retired U.S. Air Force Col. Arnald Gabriel will lead the ensemble through "Barnum and Bailey's Favorite."
Lawrence City Band concerts are sponsored by Lawrence Parks and Recreation with assistance from the Rice Foundation. Concerts are broadcast on KLWN.
Police
Officer appears in court on battery charge
A Lawrence Police officer charged with domestic battery made a brief court appearance Tuesday.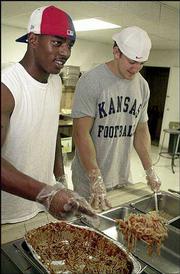 David L. Hummell, 39, has requested a jury trial. He appeared along with his attorney, Thomas G. Lemon, before Douglas County District Judge Robert Fairchild. A pre-trial conference was scheduled for Nov. 17.
Prosecutors allege Hummell battered his wife April 13 during an incident that occurred while he was off-duty.
Hummell is out of jail on his own recognizance and is on administrative leave from the department pending the outcome of the case.
County
Commissioner targets vicious dogs, owners
A proposal that would outlaw vicious dogs will be up for review tonight by Douglas County commissioners.
The ordinance, proposed by Commissioner Charles Jones, would target people who train dogs to fight, stave off law-enforcement officers or inappropriately threaten people.
The ordinance would allow officials to impound such dogs and hold them for disposition testing. If found to be vicious, the dogs would be destroyed.
Owners of vicious dogs also would be hit with mandatory fines ranging from $500 to $1,000. Jail sentences would start at up to 30 days, and reach as long as six months.
The commission meeting is scheduled to begin at 6:35 p.m. at the county courthouse, 1100 Mass.
Copyright 2018 The Lawrence Journal-World. All rights reserved. This material may not be published, broadcast, rewritten or redistributed. We strive to uphold our values for every story published.