The Lawrence Raiders have struggled with lumber in the past, but not this year's bunch.
The American Legion squad put up 11 runs and 13 hits Thursday, crushing Claremore, Okla., 11-1, on the opening day of the Al Ice Memorial Wood Bat Classic at Hoglund Ballpark.
The Raiders (14-4) demonstrated wooden-bat wizardry -- it only took 31/2 innings and a little more than an hour for the victory.
"It was a very impressive performance," Raiders coach Carl Brooks said. "I think anybody that was here could agree with that. Last two years we haven't swung wood very well, but we certainly swung it tonight. The kids were really on. Everybody was on their toes."
The Raiders batted around in the first inning. Shortstop Matt Berner led off with a double to left -- one of five doubles for the Raiders, who scored five runs in both the first and third innings.
"We have kind of been in a hitting slump as a team," Berner said. "Tonight was the first time we actually hit the ball the way we should every day."
Berner finished 3-for-3 with two doubles and three RBIs. Every Raider batter had at least one hit.
Pitcher Taylor Martin shut down Claremore (4-14), allowing just four hits. The Raiders gave him plenty of run support.
"It's a confidence booster," Martin (4-0) said. "All you gotta do is throw strikes. It's easy to pitch behind that."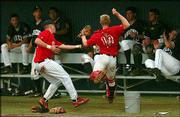 Brooks wants the hitting prowess to continue.
continued from page 1c
"I hope we didn't waste too many hits and runs. Hopefully will come out and do the same thing tomorrow night," Brooks said. "We may be capable of doing that the entire tournament, but some point you gotta figure we might run into a tough pitcher."
The Raiders will take on Ponca City, Okla., at 7:30 tonight. Matt Lane (0-1) will pitch for Lawrence.
Raiders 11, Claremore 1
Claremore 000 0 -- 0 4 0
Raiders 515 x -- 11 13 0
WP -- Taylor Martin (4-0). LP -- Drew Hoffman.
Raiders highlights: Matt Berner 3-for-3, two doubles; Andrew Pyle 2-for-3, double; Tommy Mangino 2-for-3.
Copyright 2018 The Lawrence Journal-World. All rights reserved. This material may not be published, broadcast, rewritten or redistributed. We strive to uphold our values for every story published.