Portland, Ore. — Max Papis came to Portland International Raceway last year to defend his title in the G.I. Joe's 200. He never got the chance.
Before he got on the track for qualifying, his Sigma Racing team folded, forcing Papis out of CART. With the exception of one fill-in ride late last season, he's been absent ever since.
Now Papis is back, this time with PK Racing, and at the site of what he calls his greatest disappointment as a driver.
"Last year was a very difficult one," Papis said. "The thing that really created a lot of problems for me last year was I came here with a lot of fire, I came here with a lot of will to succeed.
"The team had only one car, but we were still keeping our heads up. We were proud of what we were doing."
Then came the bad news.
"Coming over here, they told me, 'You haven't got a car, we can't pay the bills, you can't run,'" Papis recalled. "That was something that I couldn't accept."
With 2002 Portland champion Cristiano da Matta racing this year in Formula One, Papis will be the only previous winner in Sunday's field.
"Being able to be back here with PK Racing -- I believe a lot in faith, and I think this is present from God," Papis said.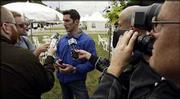 "I will never forget when I walked in today and I saw the pit wall where we were all standing last year watching all the other guys run the track," Papis said. "It was very tough."
Papis is glad to be racing again in Portland, a city that reminds him of his home in the Italian Alps.
"I have a special relationship with the people of Portland," he said. "People are simple and the people enjoy life. We have a lot of things in common."
Papis replaces Patrick Lemaire, who lost his ride before last Sunday's race in Monterey, Calif. Bryan Herta drove for the team last week. Papis had already committed to the 24 Hours of Le Mans, where he finished fifth.
The principal competition for Papis includes points leader Michel Jourdain Jr., Bruno Junqueira and rookie Sebastien Bourdais.
"I love this race track," Junqueira said. "It's one of the best tracks of the year. We are confident we're working in the right direction for a championship."
Copyright 2018 The Associated Press. All rights reserved. This material may not be published, broadcast, rewritten or redistributed. We strive to uphold our values for every story published.