Don't drink the water at Lone Star Lake.
That's the word Thursday from the Lawrence-Douglas County Health Department, whose tests detected low-level concentrations of fecal coliform bacteria in the water at the county-owned park southwest of Lawrence.
While the results are not cause for alarm -- none exceeded the state limit for recreational use -- the very presence of bacteria means people should take special care not to ingest the water while swimming, said Richard Ziesenis, the department's director of environmental health.
"People just need to generally be aware," said Ziesenis, who released results from tests on water collected May 20. "Whether they're swimming at any lake or river or even a swimming pool for that matter, they need to be aware not to inadvertently ingest any water. ...
"The possibility of disease transmission goes up dramatically if they ingest the water rather than just having it come in contact with the skin."
Concern about bacteria levels surfaced last month, as commissioners agreed to let owners of three lakeside properties hook on to 0rural water lines. Health officials warned that adding water service could exacerbate problems with untreated sewage creeping into the lake.
Fecal coliform bacteria, present in sewage, can come from people or geese, horses and other animals, Ziesenis said. Exposure to high concentrations of the bacteria -- or ingestion of even a small amount -- puts a person at an increased risk of contracting E. coli, hepatitis or giardia, three infections that can lead to sickness or death.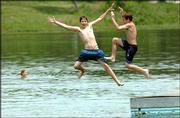 Douglas County commissioners asked for the tests, which Ziesenis conducted in cooperation with the Kansas Department of Health and Environment.
The department, which tested samples taken from eight locations on the lake, found that:
l All four tests conducted at the southern end of the lake, near lakeside cabins, revealed the presence of bacteria. The results ranged from five colonies per 100 millileters to 45 colonies per 100 milliliters, still "well below" the limit of 200 colonies per 100 millileters for recreational use, Ziesenis said.
l All but one of four tests at the northern end of the lake -- near the dam, marina and public swimming area -- were clean. One test revealed a concentration of five colonies per 100 millileters.
While the initial results offer good news, Ziesenis said, the department intends to conduct more tests in July and August, when lake use is expected to increase.
"Based on the first round of preliminary testing, there's nothing that we see yet that is over the standard, at least," Ziesenis said. "But we don't want to sound the all clear until we do further testing."
Copyright 2018 The Lawrence Journal-World. All rights reserved. This material may not be published, broadcast, rewritten or redistributed. We strive to uphold our values for every story published.