Mitzpeh Yitzhar, West Bank — Israeli soldiers and police brawled with Jewish settlers Thursday as security forces tore down makeshift tents that made up this unauthorized encampment near Nablus, the first inhabited outpost removed under Israel's obligations in a U.S.-backed peace plan.
The running fist fights and wrestling matches between 200 settlers and 400 soldiers and police occurred one day before U.S. Secretary of State Colin Powell is scheduled to visit Israel and the West Bank to try to inject some impetus into the stalled "road map" peace plan.
At the hilltop outpost, settlers with bullhorns pleaded with soldiers and police to remember they were all Jews and urged them to disobey their orders.
The outpost had been home for a year to seven families camping there, but leaders of Israel's settlement movement had rallied sympathizers to help defend Mitzpe Yitzhar as a showcase of their defiance.
Bearded young settlers hurled themselves in front of advancing armored personnel carriers and were carried away. Mothers with babies in carriages and other women formed a human barricade across the road, slapping and kicking at a phalanx of female soldiers who tried to break through.
A female soldier sat on the hood of an armored personnel carrier furiously kicking with both legs at settler girls attempting to pull her down.
The melee left bloodied noses on both sides. Fifteen settlers were arrested, and 19 soldiers and police officers were injured.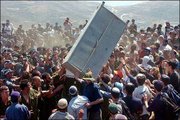 Copyright 2018 The Lawrence Journal-World. All rights reserved. This material may not be published, broadcast, rewritten or redistributed. We strive to uphold our values for every story published.