Mark Krull just wanted to pretty up the vacant lot next to his house.
Though the land wasn't his, Krull cleaned up the property north of his house at 441 Ark. and planted wildflowers. And he asked the city not to mow them down.
Monday, city crews did just that: They mowed the property, undoing all of Krull's work.
"It was disheartening, that we would take the opportunity and the spare time to make the neighborhood look good," Krull said, "and they just mowed it over."
But city officials said the lot was in violation of city codes -- and that Krull wasn't in a legal position to say what happened to the lot.
"The hole in the process here is that the neighbors did the landscaping," said Barry Walthall, the city's code enforcement manager. "They would have no way of being notified the city was going to be out there mowing."
Every summer, the city in effect operates its own lawn-mowing service for roughly 150 abandoned and neglected private lots throughout town. When grass and weeds grow too high, the city sends a notice to the property owner requesting the land be mowed.
The owner can either mow, appeal the notice or let the city mow the property. The city then charges the property owner -- and, if the bill isn't paid, can tack the cost onto the property tax bills. The annual city budget for mowing is $20,000.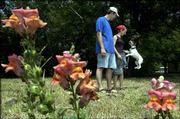 Krull said the property next to his was indeed a mess.
"It was just an open grassy area," he said. "We decided to clean it up. We got rid of all the garbage."
Krull and his girlfriend planted nearly 60 wildflower plants. He said he called the city to prevent the mowing.
Walthall said there was a specific process for allowing such vegetation, however. The property owner -- or designee -- must submit an application showing where the plants will be placed and how tall they will be allowed to grow. The Lawrence City Commission has final say about whether the growth will be allowed.
That process wasn't followed, and the city mowed the plants.
"It was kind of depressing," Krull said. "It was just starting to look good."
Attempts by the Journal-World to determine the property owner from online property records were unsuccessful.
Krull said he would try again to grow flowers on the lot.
"We're not downtrodden by the experience," he said. "We're not going to give up."
Copyright 2018 The Lawrence Journal-World. All rights reserved. This material may not be published, broadcast, rewritten or redistributed. We strive to uphold our values for every story published.