It's a 960-piece, 1-ton tribute to America.
A 36-foot-high stained-glass American flag -- believed to be the largest in the world -- was installed Tuesday at the Dole Institute of Politics at Kansas University.
Even the crews lugging the heavy glass panels said they were feeling patriotic as they put the window in place panel by panel, with two beams from the World Trade Center standing nearby.
"With everything we've experienced the last two years, this is such a great symbol of our country," said Steven Stepaniak, owner of Stained Glass Overlay in Roseville, Minn. "You can't help but feel some sense of dedication to the United States. It's very awe-inspiring."
The flag is featured between the institute's central pillars and overlooks the reflecting pool, which is expected to be complete this weekend. The building, which will house exhibits and papers from former Sen. Bob Dole's political career, is set to be dedicated during three days of World War II-related events July 20-22. Thousands of people, many of them veterans of the war, plus a cast of dignitaries that includes former Presidents Jimmy Carter and Gerald Ford, are expected in Lawrence for the events.
Installation of the flag began Monday afternoon. After about 10 hours of work, it was completed Tuesday afternoon.
Stepaniak said the red and blue colors in the flag were custom made for the project, and that most of the 960 pieces were hand-painted to add texture to the flag and make it look more like fabric. The sections were soldered together and put into 27 panels to make the flag.
"We're absolutely thrilled to death," Stepaniak said, looking up at the completed flag. "In the studio, the largest section we could put together was 8 feet by 8 feet, so it's exciting to see it all together."
He said the project also was special in that he didn't import stained glass from Europe for the flag.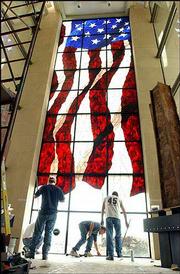 "Everything you're looking at is American made, from the glass to the frame," Stepaniak said. "We felt that was important for this project."
His company did research on other large stained-glass flags and couldn't find one of comparable size from any country -- not just the United States. Stepaniak said he would submit the flag to the Guinness Book of World Records.
The big flag took about 1,600 man hours to complete, but Stepaniak said the largest project his company has done was for a casino in Tunica, Miss. That one had 850 panels.
The institute's flag was paid for with a $200,000 donation from Forrest and Sally Hoglund, KU alumni from Dallas. Dole himself paid for a similar, 27-foot-tall window depicting his hometown of Russell and the Kansas prairie. That one will be installed Monday and Tuesday.
A steady stream of people were stopping by the building Tuesday afternoon on West Campus to watch the flag take shape. A camera crew from the C-SPAN news network also filmed the installation to pair with their live coverage of the dedication events.
"You think you imagine what something this big will look like, but I don't know if you really can have an idea of how impressive it will be," said Richard Norton Smith, the Dole Institute's director. "It will be a real defining landmark for KU."
In addition to the World Trade Center beams, the flag will be a backdrop for Dole's World War II uniform and dog tags. Nearby will be a wall of 1,000 photos of Kansas veterans.
"It will be a series of powerful images," Smith said.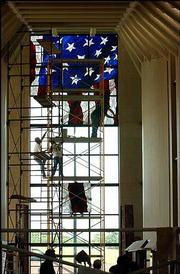 Crews installed what is believed to be the largest stained-glass flag in the world Tuesday at the Dole Institute of Politics at Kansas University. Some facts about the flag:¢ The glass weighs 1,640 pounds. With the frame, the flag weighs 1 ton.¢ Glass is 1/8 inch thick.¢ Project took 1,600 man hours to complete.¢ Flag has 960 stained- glass pieces fitting in 27 panels that are 4-feet by 4-feet.¢ Flag has vents to reduce heat between the outside window and stained glass.¢ Glass was produced by Youghiogheny Glass in Connellsville, Pa. The flag was constructed by Stained Glass Overlay of Roseville, Minn.
Copyright 2018 The Lawrence Journal-World. All rights reserved. This material may not be published, broadcast, rewritten or redistributed. We strive to uphold our values for every story published.