Tonganoxie — It has taken 22 years and help from an entire community, but Tonganoxie finally has a history museum.
The Tonganoxie Community Historical Society History Museum opened its doors during a ribbon-cutting ceremony at 9 a.m. Saturday. It includes four buildings at 201 W. Washington St.
The main body of the museum is in the Fairchild-Knox Barns, which Mildred Knox Young donated to the Tonganoxie Historical Society in 1987. At that time, the barn was in a state of disrepair, with a sunken roof and severe termite damage. Dale Englen, McLouth, building and grounds chairman for the society, said it took nine years with five or six society members doing most of the carpentry to fix the barn.
"We're lucky and have people good at electrical work, carpentry and cleaning," said society member Connie Putthoff, Tonganoxie.
The Tonganoxie Historical Society formed in 1981 with the intention of starting a history museum. It has been collecting pictures and artifacts from the community since the 1980s, but had to organize the donations and find a home for the museum.
The society runs the museum with volunteer labor and donations. The society sells concessions at a local baseball diamond four or five days a week during the summer and sponsors a soup and chili dinner in February to raise money.
Members of the Tonganoxie community also donated time, resources and skills to build the museum.
Englen helped repair Honey Valley Schoolhouse and Reno United Methodist Church, which were both moved to the museum property. The schoolhouse was in especially bad shape, he said, because it had been used to keep cattle. He said the siding was worn, windows were missing and desks lay in pieces on the floor.
"It was really a jigsaw puzzle," he said.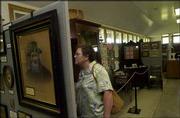 The schoolhouse now is a replica of the traditional schoolhouse in Leavenworth County and has a map showing where old schoolhouses in the county were. Antique desks and books fill the room and a list of punishments from 1818 in San Diego County is posted on the blackboard. Children then could receive 10 lashings for "misbehaving to girls" or eight lashings for "drinking spirituous liquors at school."
The museum will be open from 9 a.m. to noon Wednesdays, and the historical society hopes to find volunteers for weekend afternoons. The barn is available for rent as a community center and the church for weddings. The museum also can open by appointment. Call Susy Ross at (913) 845-2477 for reservations.
Copyright 2018 The Lawrence Journal-World. All rights reserved. This material may not be published, broadcast, rewritten or redistributed. We strive to uphold our values for every story published.