ATCHISON — Looking at Sister Paula Howard's icons you'd think she's been creating them for a long time.
But she's only been writing icons for three years. She got started when she retired at the age of 76 after being a dean at Donnelly College in Kansas City, Kan., for 10 years.
Sister Howard has been working in her studio on an icon of St. Benedict and St. Scholastica, commissioned by Benedictine College.
She first discovered icons when she was teaching at Israel's Bethlehem University for eight years. They were in many homes on the West Bank.
"I really didn't appreciate them," she said.
It wasn't until many years later that she did come to appreciate them. She took a workshop on icons at the convent.
Since the workshop she has made about 50 icons.
In the current icon St. Benedict holds his Rule. Both saints hold staffs representing that St. Benedict was an abbot and St. Scholastica was a prioress.
"I hope that they both look contemplative and the Rule implies order and learning," she said. "I think the staffs indicate reverence for authority.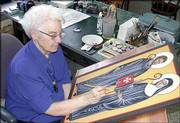 The icon was unveiled Saturday during Alumni Weekend at Benedictine College.
Writing an icon takes a lot of patience. Still, Sister Howard said, iconography seemed to be a gift to her from God.
"It just kind of happened to me. You have to have a lot of desire," she said. "It's a retreat away from things. It's into another world. It's a wonderful retirement occupation."
Copyright 2018 The Lawrence Journal-World. All rights reserved. This material may not be published, broadcast, rewritten or redistributed. We strive to uphold our values for every story published.