Barker neighborhood organizes block party
Cars were barred on 18th Street between New Hampshire Street and Barker Avenue Saturday to make way for the Barker Neighborhood Block Party.
The event was the brainchild of Bob Gent, who said, "I wanted to have a block party, and it just snowballed."
Most of the party attendees were from the Barker neighborhood, which extends roughly from 15th and Massachusetts streets south to near 23rd Street and east to Delaware Street.
Gent said that some families from Cordley School were invited so Barker children, who attended Centennial School before it closed at the end of this school year, could meet their new schoolmates.
Conservancy
Prairie tour attracts 60
Doug and Ruth Ann Guess gave about 60 people a glimpse of life in the natural prairie Saturday with a tour of their 30-acre plot west of Lawrence.
The Guesses in December donated a conservation easement on the land -- protecting it from future development -- to the Kansas Land Trust.
"Whenever you have the opportunity to show people what the natural prairie is, it's very educational," Doug Guess said.
Making the land a conservation easement puts permanent restrictions on the deed barring environmentally harmful practices. The Guesses said they donated the land because they were concerned about commercialization west of Lawrence.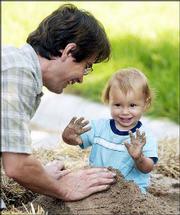 "Sometimes Ruth Ann and I try to imagine what the land looked like 200 years ago, and what it will look like 100 years from now," Doug Guess said. "It will probably be one of the few green places left between Lawrence and Topeka."
Careers
Open house is aimed at future firefighters
An open house Monday at the Lawrence-Douglas County Fire & Medical training facility is aimed at getting young people interested in careers in firefighting and emergency medical services.
The open house, from 7 p.m. to 9 p.m. Monday at the training facility, 1941 Haskell Ave., is organized by Explorer Post 2555, an educational branch of the agency designed to teach participants more about the firefighting and paramedic professions.
Members of Explorer Post 2555 may be ages 14 to 21, and must have at least an eighth-grade education.
Several Lawrence firefighters got their starts through Explorer posts.
For more information, call Fire & Medical Station 3 at 832-7630.
House and home
Safe room on display
A full-size model of a safe room designed to protect against tornadoes and other windstorms is attracting attention in the parking lot at Home Depot, 1910 W. 31st St.
More than 100 people stopped Saturday to inquire about the safe room, which has been on display since Thursday, said Fletcher Jackson, a representative of the Federal Emergency Management Agency.
Safe rooms can withstand winds up to 250 miles per hour and the impact of debris such a storm could cause.
The safe room will be on display again from 9 a.m. to 6 p.m. today.
Copyright 2018 The Lawrence Journal-World. All rights reserved. This material may not be published, broadcast, rewritten or redistributed. We strive to uphold our values for every story published.