SACRAMENTO, CALIF. — Kansas University's Leo Bookman has completed a sweep of the NCAA 200-meter dash titles.
Bookman, who won the NCAA Indoor title earlier this year, added the NCAA Outdoor 200 title Saturday.
"It was a really close race," Bookman said, "but I pulled it out. I knew if I just got out of the blocks and pushed it that I could do it. It really feels great."
Bookman, a defensive back on the KU football team, won Saturday in 20.47 seconds -- a hundreth of a second ahead of Hampton's Jerome Mathis.
"We're really excited for him," Kansas track coach Stanley Redwine said. "He worked for this all year, and he deserves it. To do both sports is very difficult, and to excel is even more difficult. We're proud of what he has accomplished."
Bookman's time was his second fastest this season. His personal best of 20.37 came in the Big 12 Outdoor, where he placed second.
"I worked really, really hard for this, and coach Redwine trained me well to get ready for it," Bookman said. "I'm going to just enjoy the win and relax this weekend and get ready to focus on football next."
Also Saturday, the Jayhawks' Mark Menefee placed 13th in the 5,000 in 14:04.14 and earned All-America honors.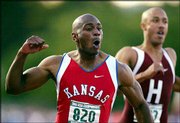 Copyright 2017 The Lawrence Journal-World. All rights reserved. This material may not be published, broadcast, rewritten or redistributed. We strive to uphold our values for every story published.