Brooklyn, Mich. — The Sirius Satellite 400 will be a first for Bobby Labonte and Tony Stewart.
Both have won poles and races, each has a Winston Cup championship, but today's race at Michigan International Speedway will be the first time the Joe Gibbs Racing teammates start side by side on the front row.
Being up front is appropriate for Labonte and Stewart, both of whom have bounced back from a stretch of disappointing races to get into the championship hunt.
Labonte, who will start from the pole, had five straight finishes of second or third before running 17th last week at Pocono.
Before he got on a roll, Labonte had fallen to 15th in the points. Now, he's fourth, trailing series leader and defending race winner Matt Kenseth by 287 points.
Stewart, the defending series champion, went through a miserable stretch from late March to the end of May, finishing better than 25th only once in seven races.
Stewart was 20th in the points race after an engine failure relegated him to a 40th-place finish in Charlotte. Now, after running fourth at Dover and taking his first win of the year at Pocono, Stewart has jumped to 13th and is 96 points behind eighth-place Rusty Wallace.
"It's just the fact that it has come together for both teams at the same time, more than anything else," Labonte said. "Everybody always works hard to make sure that everything is right, but there are so many things that can happen that won't allow it."
Stewart said part of the reason for the progress was that the crews from his No. 20 Chevrolet and Labonte's No. 18 Monte Carlo worked well together.
"In my opinion, we are the best team as far as multi-car teams who communicate and share information and work together to make each other better," he said. "When one of us is on a roll like that, the other one seems to find a way of getting on a roll and that keeps us both up at the level where we want to be."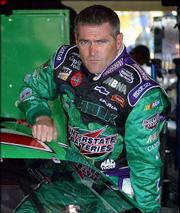 There seems to be little competitive jealousy between the teammates. When Labonte knocked Stewart off the pole Friday, both were able to smile and joke about it.
"Yesterday, I was pretty comfortable," Stewart said. "I knew Bobby was probably going to get by us, but it didn't bother me. I just didn't want anyone else to get by.
"On days that I run second, if Bobby beats me, then I'm happy. If someone else beats us, I'm not so happy. I think we both feel that way. We both want to win races, but we are a team."
This is the first time since former Washington Redskins coach Gibbs went to a two-car team in 1999 that his drivers have swept the front row in qualifying.
Dale Earnhardt Jr., second in the standings, 176 points behind Kenseth, will start third, alongside Kurt Busch and just in front of former series champions Terry Labonte, Bobby's older brother, and Jeff Gordon.
Copyright 2018 The Associated Press. All rights reserved. This material may not be published, broadcast, rewritten or redistributed. We strive to uphold our values for every story published.