Bunia, Congo — French troops leading an emergency force in Congo came under fire Saturday for the first time in their mission to stabilize this northeastern town ravaged by tribal turf wars.
The firefight on the outskirts of Bunia, from which the French special forces emerged unscathed, occurred amid growing concern that the force's mandate is too limited and does not include the demilitarization of the town that six weeks ago boasted a university, a brand-new mobile phone network and a thriving trade in gold.
"I don't know why they are here," said Jan Mol, a Dutch priest who has lived in Bunia for 15 years. "It's just show."
The French patrol -- among the first 400 members of a force expected to number 1,400 -- returned small arms, heavy machine gun and light tank fire after being fired at by attackers about four miles south of Bunia, spokesman Maj. Xavier Pons said.
Pons said it was impossible to know who provoked the 20-minute gun battle and whether the 70 French troops and 20 vehicles were the target or had been caught in the cross fire between the Lendu and Hema tribal militia.
The Hema Union of Congolese Patriots, or UPC, which currently controls the town, blamed the Lendu for the attack on the French patrol. The Lendu could not be reached for comment.
Later, French troops scoured the hilly area from where the fire had come but found nothing -- "no corpses, nothing," Pons said.
The Hema and Lendu militias began intense fighting for control of Bunia, the capital of unstable Ituri province, in May.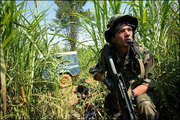 Copyright 2018 The Associated Press. All rights reserved. This material may not be published, broadcast, rewritten or redistributed. We strive to uphold our values for every story published.