Dearborn, Mich. — Henry Ford invented neither the automobile nor the assembly line, but his influence on those and other innovations laid the foundation for a company that, in a sense, put the world in motion and changed America forever.
Ford always will be linked to the Model T, which was first produced in 1908 and eventually became the symbol of low-cost, reliable transportation. The Model T helped establish a company that survived the Great Depression and two world wars and has remained around long enough to mark 100 years in business on Monday.
But Henry Ford's legacy rides on much more than four wheels.
Ford's use of the assembly line for mass automotive production and his $5-a-day wage changed American society, creating jobs for immigrants and minorities who flocked to Detroit and spawning a new segment of the population that could dabble in the markets Ford helped establish.
"Henry Ford is the most revolutionary figure of the 20th century in American life," says historian Douglas Brinkley, author of the recently released book, "Wheels for the World -- Henry Ford, His Company, and a Century of Progress." "He's responsible for turning our working class into the middle class and understanding that cars weren't luxury items."
Beyond culture, Brinkley credits Ford with influencing world history itself.
Brinkley, director of the Eisenhower Center for American Studies at the University of New Orleans, says the outcome of World War II would have been uncertain if Ford had not honed the mass-production process when he did. Ford Motor Co. and other automakers contributed mightily to the war effort by producing bombers, engines and other war machinery.
"If Henry Ford hadn't triggered the gospel of efficiency and mass production, I'm not sure we would have been able to win the second world war," Brinkley said. "Detroit became the arsenal of democracy. The factories were humming, and it was Henry Ford who showed us how to do it."
Business icon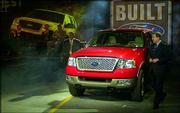 From a sociological perspective, Ford and his company changed the way we live and work. By raising wages and shortening the work day, he created greater wealth and leisure time for his employees while boosting productivity and establishing a new class of consumers.
At the factory, Ford placed as much emphasis on the manufacturing process as he did on the product -- still a focus today as automakers try to reduce costs by streamlining operations.
Ford had such an effect that the mass-production process became known as "Fordism." The concept even made its way into Aldous Huxley's 1932 satirical novel "Brave New World," which portrays a grim future where technology submerges human values.
Robin Boyle, associate dean of Wayne State University's College of Urban, Labor and Metropolitan Affairs, defines Fordism like this: "The process of producing the car becomes the most important element, and the human being is there to service the process."
A dark side
As a businessman, Henry Ford was an American icon, known for his inventiveness and vision. He shunned booze and cigarettes, and his idea of a good time might have included dancing a polka or camping with close friends Thomas Edison, Harvey Firestone and their families.
Yet he also had a well-known dark side, publicly stating that Jews had caused World War I, manipulated the banking industry and created their wealth at the expense of hardworking Americans, according to Neil Baldwin's 2001 book, "Henry Ford and the Jews -- The Mass Production of Hate."
Ford regularly attacked Jews in the early and mid-1920s in his newspaper, the Dearborn Independent, before publicly apologizing on June 30, 1927, in a lengthy statement carried by newspapers and wire services, including The Associated Press.
Through it all, the company continued to produce the vehicles that, as many are fond of saying, "put the world on wheels."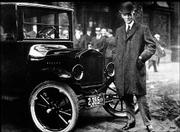 But more than products, Ford made icons for American life. The Model T was the first car for the masses. The Thunderbird was fun, the Mustang was youth, the Lincoln was wealth. And, just as not everything works out in life, Ford had the Edsel, symbol of failure.
Production icon
Henry Ford's most far-reaching contribution to the Industrial Age took place in 1913, when he reversed the moving production process already used in slaughter houses and began adding parts instead of subtracting them.
At Ford's Highland Park plant, the moving assembly line reduced production time for an entire chassis from more than 12 hours to about 90 minutes. As such, the price of the Model T declined from $600 in 1912 to about $360 four years later.
"Highland Park became the vortex of the industrial world because of the moving assembly line," Brinkley said.
A year later, Ford raised the average daily minimum wage from $2.34 to $5 and reduced the workday from nine hours to eight.
He figured if he paid his workers more, they wouldn't leave for other jobs and they could buy more in the marketplace -- such as new Model Ts.
"If you cut wages," Ford said at the time, "you just cut the number of your customers."
The lure of the relatively high-paying and secure jobs caused a migration of workers from across the nation and world, particularly from depressed regions such as the South and Appalachia.
Dominance in diversity
The automaker was among the first companies to hire black workers, pioneering corporate diversity long before the notion existed.
"He was trying to make it better for blacks because he knew there was a problem," says Rush Moore, 78, who left Aberdeen, Miss., in 1946 to work at the River Rouge stamping plant in Dearborn, just west of Detroit and now home to Ford's global headquarters.
Many black employees went to church on Sundays wearing suits with an oval Ford patch sewn onto the front to show pride in where they worked.
Government statistics show that blacks today make up 14 percent of the work force in the U.S. auto industry. At Ford, blacks represent about 19 percent of the more than 140,000 hourly and salaried U.S. workers.
Ford also welcomed immigrants from Europe, Mexico and the Middle East. Lured by the promise of steady work, an estimated 300,000 Arab-Americans live in southeastern Michigan, one of the nation's largest concentrations of people with Middle Eastern roots.
Biggest disappointment
Henry Ford wasn't nearly so accommodating to organized labor.
After the United Auto Workers was formed in 1935, and even after General Motors and Chrysler recognized the UAW to negotiate on their employees' behalf, Ford was adamant that his workers needed no such representation.
Ford's defiance of organized labor made national headlines in 1937, when his security men attacked union organizers as they handed out pamphlets near the company's massive Rouge manufacturing plant. Pictures of bloodied UAW leaders appeared in newspapers around the country.
Between 1937 and mid-1941, Ford fired about 4,000 workers who had either joined the UAW or were suspected of joining. The union decided it had to act.
On April 1, 1941, 50,000 Rouge workers went on strike. Still unwilling to relent, a stubborn Ford considered closing the factory for good, acquiescing only when his wife, Clara, threatened divorce if he did. A couple of months later, in what Ford is said to have called his biggest disappointment in business, the automaker and union signed a contract.
Ironically, says Wayne State's Boyle, Fordism actually laid the groundwork for the organized labor movement in America.
"The unions sought to ensure that if their workers were going to be part of the machine, then they should be compensated accordingly," he said.
Big footsteps to follow
These days, Bill Ford Jr., who was born 10 years after his great-grandfather Henry's 1947 death, finds himself trying to guide the company out of one of its most dire periods. The automaker lost $6.4 billion in the past two years. Its share price has fallen from $30 four years ago to around $10 today, and its overall U.S. market share has declined for the past seven years.
But the automaker's place in the fabric of the community it helped create is no less apparent.
Emblazoned on schools, libraries and street signs, the Ford name is a part of hospitals, parks, an NFL stadium and tourist attractions.
In Detroit, the arching dome of Ford Field -- a $500 million, 65,000-seat stadium that opened last August and is home to the NFL's Lions -- anchors a resurgent downtown. William Clay Ford, Bill Ford Jr.'s father, has owned the team since 1964.
In Dearborn, at least six schools and a library boast a Ford namesake. The Ford Community and Performing Arts Center, Henry Ford Retirement Village and the Ford Homes District were built on Ford land or with Ford money or both. Interstate 94, connecting Detroit to Dearborn, is called Ford Freeway.
"Ford and Dearborn are really inextricably linked," says Dearborn Mayor Michael Guido. "We appreciate them. We worry about them when things aren't going well and we're proud of them when things are."
Copyright 2018 The Associated Press. All rights reserved. This material may not be published, broadcast, rewritten or redistributed. We strive to uphold our values for every story published.