If today were a perfect day for Jim Hill, he would celebrate his 61st birthday, enjoy Father's Day with his family and win his third straight LAGA Men's Senior golf championship.
He may have to settle for two out of three.
Hill was 10 strokes off the pace after Saturday's opening 18 holes at Eagle Bend Golf Course, thanks mainly to Mike DuPree's sizzling 3-under-par 69.
"That score is awesome," said Hill, who won the inaugural LAGA Men's Senior two years ago and again last year. "That's the first time anyone has broken par in this tournament."
DuPree, who turned 51 last month, hardly seemed like the leading candidate to make tourney history, not after he finished fourth in his first LAGA Men's Senior last year by carding rounds of 76 and 84.
"I've never even shot par before," DuPree said after Saturday's memorable round. "I careered it."
DuPree, who runs a floor cleaning and maintenance business, punctuated his career scorecard by draining a 25-foot downhill putt on No. 18.
"I knew I needed it to break 70," DuPree said. "It felt really good after I skanked an iron shot past the hole."
Curiously, DuPree earned a double bogey on the 390-yard, par-4 No. 1 hole, then was 5-under over the last 17 holes. He shot 36 on the front nine and 33 on the back at the city's municipal course.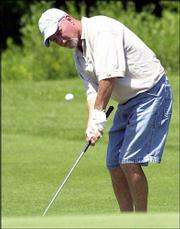 "I didn't let the demons out," DuPree said. "I kept them in Pandora's box."
Today the tournament will shift to Alvamar GC for the final 18 holes, and Alvamar is DuPree's home course. Advantage DuPree? Not exactly.
"It is and it isn't because I've had bad rounds there, too," he said.
That 84, for example, he carded on last year's second day.
"I remember I stepped up to the 11th tee last year and said to myself, 'This is my tournament to win,' then I yanked my drive left and I lost it," DuPree said.
Hill doesn't plan to allow DuPree to run away with the title, vowing he wouldn't surrender his reign as the city's only senior golf champion without a battle.
"Ten strokes at Alvamar, that's five holes," Hill said, smiling. "That's how I look at it. I'm optimistic. It's a different day and a different venue."
Hill, who works at Amarr Garage Door, plays mostly at Eagle Bend, but he isn't a stranger in a strange land at Alvamar.
"I like it," he said, "but I don't play there that much. I love those zoysia fairways."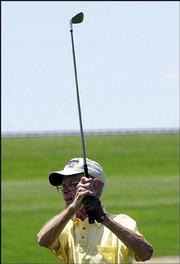 Hill rallied from a three-stroke deficit last year to overcome first-day leader Jack Schreiner. Schreiner, Free State High's boys basketball coach, took himself out of contention Saturday when he carded a nine on No. 18 and settled for an 81.
Roger Dreiling was eight strokes back with a 77 and in second place. Tom Taylor, last year's runner-up, shot a 79 Saturday.
DuPree vowed he would do his best to keep his golf demons at bay again during today's final round.
The leaders were scheduled to go off at 9:56 a.m. at Alvamar.
"I'm going to laugh today," he said after Saturday's round. "Then I'm going to tee it up and play golf again. Whatever happens happens."
Copyright 2018 The Lawrence Journal-World. All rights reserved. This material may not be published, broadcast, rewritten or redistributed. We strive to uphold our values for every story published.