Corning, N.Y. — In its 152-year history, Corning Inc. has proved adept at reinventing itself -- and more than accustomed to riding out adversity.
It is calling on that talent now as James Houghton, whose great-great-grandfather founded the pioneering "scientific glass company," oversees a painful recovery from the telecommunications crash of 2001.
As Corning Inc.'s unsentimental patriarch, Houghton, who is 67, has made a remarkable comeback of his own.
Houghton, who first took the helm from his older brother in 1983, fought back from a near-fatal accident 10 years ago, when he was hit by a car while crossing a street in Williamsburg, Va.
He opted for early retirement in 1996 and, in his absence, Corning morphed into a fiber-optic powerhouse and swelled its ranks from 15,000 to 43,000 employees. It then almost foundered when the telecommunications industry sank swiftly into a deep recession.
The company's choice for the role of savior is known in this eponymous company town of 11,000 in rural western New York as simply Jamie.
But an old nickname -- Dark Angel -- has resurfaced because of his unerring speed in casting off sputtering businesses. After more than a year of his leadership, nearly half the jobs are gone.
"Laying somebody off is not fun. It's a nasty process," Houghton said. "But, you know, in the long run -- whether it's worldwide or for this community -- the overall health of the enterprise is what's important."
Houghton has shut 13 plants, trimming the payroll to 22,500 and, in May, offloaded the once stellar photonics business -- optical switches and other exotica that manage the rapid flow of light signals through optical fiber.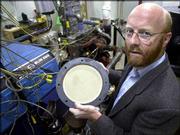 More than half of Corning's optical fiber business -- which remains the world's largest -- has been mothballed. It isn't expected to get humming again until at least late next year.
In telecom's place is a new reliance on technologies that, after decades in the making, are blossoming into high-growth engines. One is pollution filters for power plants and diesel vehicles; another is ultrathin glass used in flat-screen computers and televisions.
Corning anticipates a 20-to-40 percent jump in annual sales of liquid crystal display glass through 2006. Less than 1 percent went into televisions last year, so there's ample room for expansion in "not only the size of the market but the size of glass," Houghton said.
Analyst Gabriel Lowy of Blaylock & Partners thinks the projections are too rosy. He expects heightened competition in the LCD business to keep growth rates to 15-20 percent.
During retirement, Hough-ton remained on the board but in hands-off mode. He never contemplated a return -- but didn't hesitate when the call came in April 2002.
His chief goal was to restore operating profitability by this summer, and he looks to be on target. After two years of net losses, Corning broke even in the first quarter. Excluding one-time costs, it expects a profit in the second, or certainly the third, quarter.
The stock, which reached $113 in August 2000, was at $1.10 in October but has since rallied, topping $7 a share in May. Debt has been rolled back from $5 billion to $3.7 billion. With one-time costs included, Corning could be in the black next year.
Copyright 2018 The Associated Press. All rights reserved. This material may not be published, broadcast, rewritten or redistributed. We strive to uphold our values for every story published.