Hood River, Ore. — They are returning now, the wind worshippers who swarm into this scenic Columbia River town every year from all corners of the world to squirm into their wetsuits, hop onto their windsurfing boards and go tearing across the whitecaps at 30 mph and more.
Some will stay the weekend. Some will stay the summer. Others may stay forever -- there are plenty who do.
Sitting on a bench in front of a popular downtown coffee shop is local windsurfer Bart Vervloet, a 43-year-old who came here nearly two decades ago in search of the perfect wind, found it, and made Hood River his home.
Vervloet is fond of pointing out that the first three digits of Hood River phone numbers -- 386 -- spell "FUN" on telephone keypads.
"This is a play zone," says Vervloet, the voice of "Bart's Best Bet," a local radio program that broadcasts the day's expected wind speed, weather forecast and other data crucial in a town known as the windsurfing capital of the world.
"You do whatever it takes to stay here," Vervloet says.
Everyone knows Vervloet, who also manages Windwing, a downtown shop that sells sails of its own design and other gear. Vervloet is a strapping man with a puckish smile. Windsurfers stopping at the coffee shop give Vervloet a hearty "Hey Bart!" as they wander by. One of them asks Vervloet, who got hitched last year, how he likes married life.
"She's still there!" he replies triumphantly.
Among the windsurfers who pull up in front of the coffee shop are a businessman from Michigan who spends summers here chasing the wind, a 20-something who sells Toyotas at a Bend car dealership, and a man who tends bar at night and windsurfs during the day.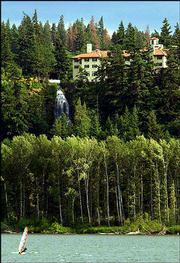 There are more coming -- many, many more. By the height of summer, this town of just under 6,000 will be swelling with throngs of athletic visitors.
Outdoor enthusiasts
Ensconced in a majestic cleft of the North American continent called the Columbia River Gorge, Hood River has an embarrassment of recreational riches.
Windsurfers began coming here about two decades ago, drawn by winds of 25 mph and higher that persistently blast down a natural wind tunnel created by towering basalt bluffs framing both sides of the Columbia River Gorge.
The windsurfers have been followed by legions of outdoors enthusiasts pursuing other sports: kayakers and rafters who plummet down tributaries feeding into the mighty Columbia, mountain bikers who race through foothills of the Cascade mountain range, road cyclists who speed along backroads that wind past pear and apple orchards.
There's also salmon fishing and golf.
During the winter and part of spring, local resorts, hotels and inns cater to skiers and snowboarders who hit the slopes of 11,240-foot Mount Hood, which looms in the near distance.
"On a perfect day you can ski in the morning, squeeze in a kayak run and finish your day with a bike ride," Vervloet says.
The latest craze in Hood River is kiteboarding, which is similar to windsurfing. The whole point of kiteboarding is not so much speed, as becoming airborne. A large kite captures the wind, propels the surfer across the water and plucks him as much as 40 feet into the air, depending on wind gusts.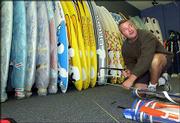 You don't have to be an outdoors enthusiast to appreciate Hood River. Downtown buildings, some more than a century old, have been renovated. New restaurants and bed-and-breakfasts have opened in the past several years, catering to the sports set and tourists traveling through the Columbia River Gorge.
Leaving from a 1911 train station, the Mount Hood Railroad takes visitors on a four-hour journey along the bosky Hood River Valley and over hills lying in the shadow of Mount Hood, Oregon's tallest summit.
Scattered along the Hood River Valley are more than 300 fruit farms. Motorists follow what's called the Fruit Loop -- a tour of fruit orchards, country markets, wineries and roadside stands.
Economic windfall
Windsurfing and recreation have totally changed Hood River, which in the 1980s was struggling because of the decline of the timber industry.
Now lining Hood River's streets are businesses with names like Big Winds, Windance, Kayak Shed, Storm Warning and Renegade River Rafters, as well as boutiques and galleries.
"There are other small towns around America that are shriveling. Hood River isn't," says Peter Jubitz, who was born and raised here and owns Franz Hardware store.
"It's gone way beyond windsurfing. Cars go by with a canoe on the top and golf clubs in the trunk," says the 61-year-old Jubitz.
A 1990 study by community planning specialist David Povey found that windsurfers brought an infusion of about $16.4 million into Hood River during the summer and projected that would grow to $30 million in 1995.
Hood River's attraction as a place for all kinds of outdoor activities has grown over the past decade, and Povey figures the summer economic impact from visitors may have reached about $50 million.
Copyright 2018 The Associated Press. All rights reserved. This material may not be published, broadcast, rewritten or redistributed. We strive to uphold our values for every story published.