Garibaldi, Ore. — A large wave flipped over a charter fishing boat carrying 19 people Saturday off the northern Oregon coast, killing at least nine, the Coast Guard said.
Two people were missing several hours after the capsizing. Rescuers searched near a long, rocky jetty at the mouth of Tillamook Bay, an area known for high waves and swirling currents.
Eight survivors -- a female and seven males ages 13 to 48 -- were brought to Tillamook County General Hospital suffering from hypothermia and needing oxygen because of near drowning. All but two were released, and one of those still in the hospital was there just for observation, officials said.
"They hit a wave wrong and the boat capsized, that's what I was told," nursing supervisor Heather Scovell said. "They're cold, in shock."
The 32-foot Taki Tooo capsized in 15-foot breaking surf as it sailed out of the bay past a 1,000-yard jetty shortly after 7 a.m., said Coast Guard Chief Petty Officer Paul Painter.
Some of the survivors reached shore after swimming hundreds of yards, while firefighters found others bobbing in the shallow surf, Garibaldi Fire Chief Mike Sheldon said.
"There were people floating around in the water and they were on the beach. Some of our personnel went in (the ocean) after them," Sheldon said.
Coast Guard Master Chief Lars Kent said other people on the beach, including the pastor of a local church, also helped pull people from the water.
Earl Werneke Jr., 29, of Rockaway, said he brought out three bodies and one young boy who was alive. "There was one I couldn't get to, I think he's one of the missing," he said.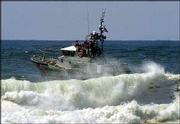 Copyright 2018 The Associated Press. All rights reserved. This material may not be published, broadcast, rewritten or redistributed. We strive to uphold our values for every story published.