Baldwin — Medora Davidson is hoping Baldwin Community Theatre's upcoming production of "Bye Bye Birdie" will motivate audiences to "Put on a Happy Face."
The musical opens Friday at Baldwin Junior High School, 400 Eisenhower.
"It has good music; it has humor; it has good acting; it's a fairly good script; it's a good plot," said Davidson, who's directing the production. "It's just good all around. It's a family fun-type show."
The story takes place in the early 1960s, "a time when the world was naive and just beginning to mature," Davidson said.
The rules of courtship were a bit different then, but the teenage girls in Sweet Apple, Ohio, still stare with mouths agape when the hip-swiveling rock star Conrad Birdie comes to their small town to give 15-year-old Kim MacAfee a kiss on national television.
The staged smooch is part of a publicity stunt to promote Birdie's latest hit, "One Last Kiss." Birdie's agent, Albert Peterson, is depending on the kiss to make back the money he invested in Birdie's career that he lost when the star got drafted. Money's not all he lost. His longtime secretary and love interest, Rosie, has been begging him to quit the music business, settle down and become an English teacher. She hatches the publicity scheme to encourage that transition.
Meanwhile, Kim has resigned as president of the Conrad Birdie Fan Club because Hugo Peabody has asked her to go steady and given her his pin. Hugo decides he won't let his girl kiss Birdie, gets into "The Ed Sullivan Show" studio with help from Rosie and knocks Birdie out cold before he has a chance to lock lips with Kim.
Mayhem ensues, relationships are jostled but then reaffirmed, and the play ends in the kind of harmony audiences expect from a candy-coated musical.
Davidson expects people will leave the show humming its well-known tunes: "Kids," "Put on a Happy Face," "Got a Lot of Living to Do" and others.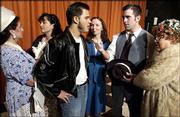 Staging a musical is a summer tradition for the Baldwin Community Theatre, but there's one new element to this year's show: It will be performed indoors.
For years, the theater performed its summer productions at the junior high, but construction projects forced the casts and crews of "The King and I," "Showboat," "The Music Man," "Annie" and "Annie Get Your Gun" to a lot between the lumberyard and the post office for the past five years.
No construction at the school this year and the expense of renting an outdoor stage and lights -- it runs a minimum of $4,000 -- persuaded the theater board to select the indoor venue.
The change has its perks, said board president Linda Ballinger.
"We can get back inside where it's air-conditioned, and you don't have to worry about the rain and the bugs and the wind and all that kind of stuff," she said.
What: "Bye Bye Birdie," Baldwin Community Theatre's summer musical.When: 8 p.m. June 20-21, 26-28 and 2 p.m. June 22.Where: Baldwin Junior High School, 400 Eisenhower.Tickets: $9 for adults, $4 for children under 12 in advance. Tickets at the door are $1 more.
Ballinger and Anita White are in charge of costumes for "Bye Bye Birdie." The standout is Birdie's getup for the television spot: a fire-engine red jump suit with a cape and stand-up glittery collar.
It will be worn by Baker University student Ryan Nichols, who's playing the role. Lawrence residents in the show include Jan Cooper as Mae Peterson, Albert's mother; Mike Boring; and Monica Claassen-Wilson. Other cast members hail from Baldwin, Olathe and Ottawa.
Copyright 2018 The Lawrence Journal-World. All rights reserved. This material may not be published, broadcast, rewritten or redistributed. We strive to uphold our values for every story published.