If Wal-Mart officials are allowed to build a store at the northwest corner of Sixth Street and Wakarusa Drive, it will not be a supercenter and will not have a grocery department.
Keith Morris, spokesman for the Bentonville, Ark.-based retailer, said Wal-Mart had scrapped plans to build a supercenter at the site because city restrictions will not allow for a large-enough building to house both a 50,000-square-foot grocery department and all of the standard departments of a typical Wal-Mart store.
Morris said the company was disappointed it would not be able to have a supercenter in Lawrence but said it still was committed to building a traditional Wal-Mart store on the site.
"This (the new plan) would still be one of the larger discount stores that we offer," Morris said. "We think it will serve the area very well."
He downplayed speculation that Wal-Mart was looking elsewhere in Lawrence to build a supercenter store the former Tanger Factory Outlet Mall in North Lawrence has been rumored as an alternate location and abandon plans for Sixth and Wakarusa.
"We definitely remain committed to that site, and if we are given permission to proceed we fully plan to go forward with that location," Morris said.
Doug Brown, the real estate agent listing the former Tanger property, said he had not been approached by Wal-Mart.
"I have heard that people think that is where it ought to be, but we haven't had any contact from them," Brown said.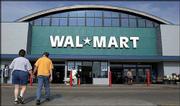 The new store at Sixth and Wakarusa would be 132,000 square feet. The average Wal-Mart store is 95,000 square feet, Morris said. The company's supercenters generally are at least 150,000 square feet.
City officials are trying to stop any Wal-Mart store from being built at Sixth and Wakarusa. The Lawrence City Commission has imposed a building moratorium at the site and refused to issue a building permit for the project. The owners of the property have filed a lawsuit in Douglas County District Court challenging the moratorium.
Morris said Wal-Mart had not yet become a party to the lawsuit because it was not ready to act as quickly as the property owners. Wal-Mart officials, he said, were reviewing developments and likely would decide within 30 days whether to join the suit.
Morris said Wal-Mart officials decided to move ahead with the project at Sixth and Wakarusa despite the inability to offer groceries because the company was convinced it needed a second location to relieve pressure off of its store at 3300 Iowa Street.
Wal-Mart intends to keep its Iowa Street store open, but Morris said there were no plans to try to expand it into a supercenter.
Business editor Chad Lawhorn can be reached at 832-6362.
Copyright 2018 The Lawrence Journal-World. All rights reserved. This material may not be published, broadcast, rewritten or redistributed. We strive to uphold our values for every story published.