Pasadena, Calif. — The first of two NASA rovers is safely on its way to Mars, but the riskiest part of its seven-month journey to the Red Planet lies ahead, as some humiliating failures have shown all too well.
"Mars tends to eat spacecraft. It's a graveyard," Edward Weiler, NASA associate administrator for space science, said Wednesday.
Embarrassed by the back-to-back losses of two Mars spacecraft in 1999, NASA has added more backup systems to its new rovers, along with more testing and reviews.
"We have done all we can to correct the errors on the two missions that failed," Weiler said.
NASA launched the robotic explorer Spirit on Tuesday from Cape Canaveral, Fla.
The spacecraft still must cross 311 million miles of space and safely land on the planet an endeavor that ended in failure for six of the nine Mars landing missions mounted by the United States and the Russians in the past three decades.
"It looks perfect, seems to be perfect, appears to be perfect, but you don't want to get complacent," said project manager Peter Theisinger of NASA's Jet Propulsion Laboratory in Pasadena.
A second rover called Opportunity is scheduled for launch from Florida no earlier than June 25.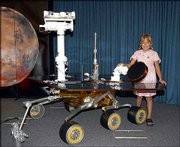 The cruise to Mars is expected to be relatively straightforward. The real risks come upon arrival at Mars.
The spacecraft carrying the first new rover is expected to enter the Martian atmosphere on Jan. 4 at 12,000 mph, using atmospheric friction, a parachute, rockets and an airbag to slow down and cushion its landing.
"This is among the most unforgiving endeavors you can take up, because you can do 10,000 things right and just one wrong and that's enough. So I'm never going to say there's no risk," rover flight systems manager Richard Cook said recently.
Software errors doomed the last lander NASA sent to Mars, 1999's Polar Lander; it smashed into the planet. And a mix-up between English and metric units caused the destruction in 1999 of another Mars spacecraft, the Climate Orbiter. It burned up in the Martian atmosphere.
After those two failures, the space agency took a closer look at itself, and found mismanagement, unrealistic expectations and anemic funding underlying the failures. Then-NASA Administrator Dan Goldin, whose mantra was "faster, better, cheaper," took responsibility, saying he had "stretched the system too thin" and may have made some failure inevitable.
Copyright 2018 The Associated Press. All rights reserved. This material may not be published, broadcast, rewritten or redistributed. We strive to uphold our values for every story published.