Gary Patterson and his wife, Fanny Shiau, know their business to a T.
Or to a tea.
The Lawrence couple opened Lawrence's newest tea shop, the House of Cha', 21 W. Ninth St., Thursday. But first, they really got to know the business of tea.
The couple spent the past five years on the Taiwan tea farm of Shiau's uncle. The Kansas University graduates worked as exporters for the farm but found themselves wanting to return to tap into what they saw as a virtually untouched market in Lawrence.
"We really wanted to educate people about what good tea is all about," Patterson said.
The business is one of several new stores that recently have opened or soon will open in Downtown Lawrence.
Patterson said he believed that with the family connections to tea growers, the store could carve out a niche in the tea business. The store buys all of its oolong tea, a style of premium tea, directly from the Shiau family farm. It's an important distinction, Patterson said, because stores that must deal with tea brokers don't always receive top-quality merchandise.
"To be brutally honest, most of the lower-grade teas are shipped here (the United States) unless you know someone," Patterson said. "We're able to avoid that because we're dealing directly with the grower. We get it straight from the source."
The store sells about 35 flavors of tea, including green, black, flavored ice and milk teas. It even sells flower-infused tea, which involves brewing tea with petals from roses, lavender, chrysanthemums and other plants.
The business hopes to tap into some of the success that coffee houses have enjoyed downtown. Customers were encouraged to sit for hours at a time while they study or talk with friends. Plus, Shiau will demonstrate traditional Chinese methods for brewing tea.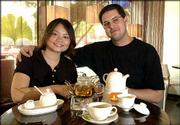 "It is not just about tea," Shiau said. "People have a lot of stress at work. We think they need a place and a way to relax."
Other downtown businesses in the process of opening include:
l Kieu's, a women's clothing store, at 738 Mass. Store owner Thuy Nguyen said the business was expected to open June 19. It will specialize in clothing, shoes and accessories that particularly appeal to younger shoppers.
"This town has two high schools and two universities, so that tells me that there is always going to be a market no matter what," Nguyen said.
Opening her own store seems a natural for Nguyen, who began working in her parents' Garden City clothing store, Kieu's Fashion, when she was 12 years old.
"It seemed like a good fit for me because my friends were always asking me where I got this or where I got that," Nguyen said. "In the sorority house, my closet was the place to go."
l Roly Poly Sandwiches hopes to be open by mid-July at 818 Mass.
The shop will offer 50 different styles of hot- and cold-rolled "sandwiches" which have no bread but rather are wrapped in flour or wheat grain tortillas.
James Barr, the area franchisee for the Georgia-based company, said the wraps -- generally considered healthier than most fast-food offerings -- were popular with college students.
"We think it will work great here because university towns usually are more health conscious," Barr said. "They are more earthy-people."
Barr, who is based in Overland Park, said he also has plans to open a second Roly Poly store somewhere on 23rd Street by the end of the summer.
Copyright 2018 The Lawrence Journal-World. All rights reserved. This material may not be published, broadcast, rewritten or redistributed. We strive to uphold our values for every story published.