Warsaw, Poland — Poles voted overwhelmingly Sunday to bring their nation of 38 million into the European Union, fulfilling long-nurtured aspirations after decades of Cold War isolation.
President Aleksander Kwasniewski, an ardent EU campaigner, underlined the historic dimension of the weekend referendum, exclaiming to cheering supporters at the presidential palace: "We are coming back! We are coming back to Europe!"
"Poland in the European Union -- could anyone have dreamed about it more than a decade ago?" Kwasniewski said.
Poland, the first Soviet bloc country to topple communism in 1989, will be the largest country to join the 15-nation bloc next year, with voting power equal to Spain and behind only Great Britain, Germany, France and Italy.
The EU invited 10 nations to join next year. Poland is the sixth to approve membership.
Across the country, jubilant Poles filled central squares to celebrate, some waving red-and-white Polish flags, others blue EU banners.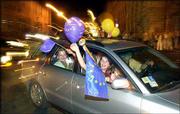 Bands played both the Polish and EU anthems as revelers danced, uncorked champagne and paraded about with children on their shoulders.
Turnout surged to 58 percent of the nation's 29.5 million registered voters Sunday, after a disappointing show of 18 percent Saturday. A 50-percent turnout was required to make the referendum valid.
Early official returns showed 76 percent voted "yes" for membership, with 75 percent of Poland's 25,000 polling stations reporting.
In a potent reminder of Poland's long struggle to rejoin the community of democratic nations, Kwasniewski was joined by Solidarity activists who defied the communist regime as well as by the last communist leader, Mieczyslaw Rakowski, who participated in round-table talks that led to democratic change.
Poland's most famous freedom fighter, Solidarity founder and former President Lech Walesa, watched from his home in the Baltic port city of Gdansk.
"We achieved a success. Let's celebrate," Walesa said. "This is my last fight for Poland's future chances. This is the last battle."
Copyright 2018 The Associated Press. All rights reserved. This material may not be published, broadcast, rewritten or redistributed. We strive to uphold our values for every story published.