New York — The magical ride ended in the mud, splashed aside by a rival who wasn't about to let a gelded nobody become part of racing royalty.
Empire Maker caught Funny Cide on the far turn and won the Belmont Stakes Saturday, thwarting yet another Triple Crown hopeful's attempt to do what no horse has managed since Affirmed in 1978.
"I feel bad for all the people who came out," rain-soaked trainer Barclay Tagg said. "I was pretty confident."
Despite a steady rain, Funny Cide drew the second-largest Belmont crowd, 101,864, which hoped to see the New York-bred join the likes of War Admiral, Whirlaway and Secretariat.
After a win over Empire Maker in the Kentucky Derby and a runaway romp in the Preakness, it seemed the entire racing world was pulling for the gelding, owned by a group of high school pals from upstate New York.
It was not to be.
Instead, Funny Cide became the fifth Kentucky Derby-Preakness winner in the last seven years to come up short in the 11¼2-mile Belmont, the longest and most difficult of the three races. The defeat extended the Triple Crown drought to a record 26 years. Secretariat won the in 1973, 25 years after Citation.
Empire Maker beat Ten Most Wanted by three-quarters of a length, with Funny Cide another 43¼4 lengths back in third. Dynever was fourth, followed by Supervisor and Scrimshaw.
"I am not disappointed," Funny Cide jockey Jose Santos said. "He didn't handle the track good. I still think I have the best 3-year-old."
Tell that to Jerry Bailey, who said Empire Maker was "the best 3-year-old that I've ever been on."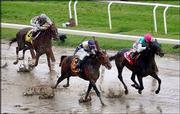 "I think he'll prove as the year goes on how good he is," he said.
As if to underscore the point, winning trainer Bobby Frankel said, "You know he's the best horse. He pulled up, but then he took off when that other horse (Ten Most Wanted) challenged. I wanted the race to shape up like that."
Empire Maker owns a 2-1 edge over Funny Cide, having won the Wood Memorial at Aqueduct on April 12.
Though racing is still without a Triple Crown winner, it gained a rivalry. The two could meet again in either the Haskell Invitational at Monmouth Park or the Travers Stakes at Saratoga, both in August.
"We will be back," Santos said. "I can't wait for them to meet again. It will be a great rematch."
Funny Cide shot to the lead, ahead of Scrimshaw and Empire Maker, but it quickly became apparent the flashy chestnut couldn't handle the goo. Heading out of the first turn, Funny Cide started fighting Santos and looked uncomfortable turning up the backside.
And that's when Bailey knew he had the race won.
"He was pulling on Jose, and my horse was relaxed," Bailey said. "That is what you want going a mile-and-a-half, to get your horse to relax."
Tagg wasn't sure what bothered Funny Cide.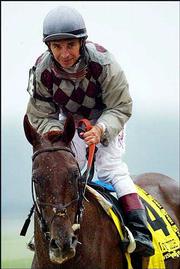 "I don't know if it was the mud or the extra quarter-mile that got him," the trainer said. "I don't know whether he liked it. I never had to run him in it."
Empire Maker gave Frankel his first win in a Triple Crown race. The Hall of Famer was 0-9 in the series, but had come close twice before in the Belmont. Medaglia d'Oro was second last year, and Aptitude was the runner-up in 2000.
In the days before the race, Frankel relished the role of spoiler, saying, "I hope everybody hates me after the race -- then I'll know I did well."
Frankel expected Empire Maker to win the Derby, too, but a bruised foot compromised the colt's chances. He still finished second, 13¼4 lengths behind Funny Cide.
Owned by Saudi prince Khalid Abdullah, Empire Maker skipped the Preakness and trained sharply at Belmont for the rematch. Sent off as the 2-1 second choice, he returned $6, $3.70 and $2.80.
Ten Most Wanted, ridden by Pat Day, returned $5.80 and $3.20. Funny Cide, the even-money favorite, paid $2.70. Winning time for the race was 2:28.26.
Empire Maker earned $600,000 from the $1 million purse, boosting his career earnings to $1,885,800. Funny Cide's 10 owners lost out on a $5 million bonus. They arrived at Belmont Park, along with friends and family, in four rented yellow school buses. It must have been a subdued ride back to their hotels.
Only 11 horses have won the Triple Crown. Sir Barton was the first in 1919. Funny Cide was the 17th to win the first two legs and come up short in the Belmont.
Empire Maker, not Funny Cide, was supposed to be the big Triple Crown threat this year. He won the Wood and took the Florida Derby by nearly 10 lengths and was the clear favorite to win the Kentucky Derby. But he dropped out of the spotlight when Funny Cide, purchased for $75,000, won at Churchill Downs.
"This is probably the biggest thrill in racing for me," Frankel said. "A little redemption here. I thought maybe destiny wanted that horse to win."
Copyright 2018 The Associated Press. All rights reserved. This material may not be published, broadcast, rewritten or redistributed. We strive to uphold our values for every story published.